End of Enterprise?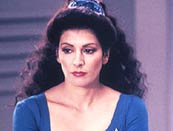 Fan campaign to save series from being axed. Guest stars rumoured.
Star Trek: Enterprise fans are joining forces to save their favourite show from being shelved.
They have launched EnterpriseFans.com to spearhead their campaign, and plan to pledge their support for the show in a full-page ad in the 18 February edition of USA Today.
They are hoping their show of strength will convince Viacom to carry on making Enterprise.
Despite ratings for Enterprise picking up after its move to Friday nights, viewing figures fall someway behind those of other shows screened on UPN.
Meanwhile, rumours abound that the fourth season will feature guest appearances from Star Trek: The Next Generation stars Marina Sirtis and Jonathan Frakes (Troi and Riker in the series).
Previously, it was hoped that William Shatner would help boost ratings by appearing in the show.
---
---