Point Pleasant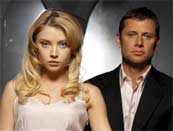 Review: Pleasant premiere, if a little pointless.
Marti Noxon used to write the depressing stuff on Buffy. She's now got her very own show – and it's one that won't be winning comedy awards any time soon.
Despite plenty of requisite Hollywood beauty and production gloss, the opening episode of Point Pleasant leaves you wanting more. Preferably more Tru Calling, which it unceremoniously elbowed out of the Fox schedules.
The high concept pitch for Point Pleasant is: "The O.C. meets The Omen" and pairing it with the former on American TV makes a lot of sense. Christina, the Devil's daughter, is washed up on the shores of a sleepy East Coast village. After being all-too-quickly adopted by the local doctor's family, she spends her time unleashing telekinetic trouble when things aren't going her way.
At one point Christina jealously curtails some snogging at a petrol station by flooding the forecourt in the vicinity of a man who likes nothing better than a bit of after-hours spot welding. You can guess the rest. Elsewhere, a man is killed by wasps, which is a bit more like it.
Point Pleasant may be set in New Jersey, but is clearly filmed in Santa Monica. By rights, the pretty boys and girls should be wrapped up in chunky sweaters, chugging back cups of cocoa, but are instead parading around the beach in bikinis late at night. Easy on the eye, if not reality.
Few of the cast stand out in the opening episode. They all seem to be tall, skinny and slightly bland - possibly from the same actorbot company as the Hex gang. One has a scar on his neck, which may help to identify him in future. Starship Troopers' Dinah Meyer shows promise as an old flame of the doctor's, but appears to be auditioning for Desperate Housewives instead of going with the flow.
Although Point Pleasant has kicked off in a less than thrilling manner, we live in hope. Noxon has already broken the glass on the Emergency Buffy Cast cabinet and promises appearances from Adam Busch and James Marsters that could liven things up in the coming weeks.
It all just needs to be a little more interesting and engaging. The devil is in the details, you know.
Send us your comment now. We'll publish the best on this page.
kevin
Have you noticed there is never a mothman around when you really need one.
Natasha
The last episode 7th may 2005 was really good it's the best episode so far more of the same please i loved it!
dazler
i cant believe fox has cut yet another show dark angel,angel now p pleasant what prat makes all these decisions to cancel good shows half way through or not letting us know the endings it is really annoying SORT IT OUT these are good shows.oh yeh please bring back DARK ANGEL AND POINT PLEASANT
Eske
This series had my hubby asleep for 4 episodes, but me hooked...got to episode 9 on E4 and we were both avid watchers...then they axed the show!!!!Bring it back...we want to finish what we started!!!!!
Jesse
About the time I got interested in it, it disappeared. Now, I find that "Tru Calling" is back, which is more than OK with me. I'd rather see it anyway. At least, Eliza can TRUly act, imo.
Bianca
I liked the show I don't think it's point less it's kind of like a movie. But True Calling is also as good
Nyle
Could of been really good but lacks intelligent plot. Completely agree with the reviewer except that in spring and summer it is pretty hot on the Jersey Shore, Bikini's all round
Amanda Lacey
This program is fantastic. HI tuned in on Wednesday evening, as usual, but to my horror it had been cancelled. the statement made was that, "hopefully to return in the Autumn!" That's it, no explanation, nothing. Do you know why it has been taken off air?
mike
having watched up to episaode 8 of this series i would say it begins to take off at episode 7, with some dramatic charater developments that make the whole thing look much more intricate. There are so many ways the story line could go had the potential to become dark deep and fun. having said that the all too predicatable good v evil , arrmagedon type main plot seems a bit overdone, i mean we all know the world wont end ... or will it....
nikki
i can't belive u people! i love this show its enticing and u people r way too effected everything has to be action action actiom can't appreaciate good tv.
Johnny
Saw the 2nd episode, which was even more woeful than the 1st. The directing is amateurish, the plot completely dull, and the actors look posey and staged. I don't care one single bit about any of the yawnsome characters, and what was with the totally unexciting boat race? And the endless tracking shots going over the moonlit sea between each scene? Grr! A completely daft and pointless show. I won't be watching the 3rd episode, and if this show isn't cancelled by Fox soon, then I'll eat my hat!
Palaestra
Eh, so unoriginal and plain dull! stick was Lost and Alias, far better characterisation and in lost, anyway, the characters dont look like they have been preened after every scene! the lead isnt very engaging eiher...
Judi
Now that episode 2 has been screened here in UK the pace has been set and the scary creepy element really hightened. One feels for this poor girl possesed by the devil and her fear of herself and what she might do to the people around her. Grant Show makes a really cool bad guy. He is going to be the reason many people will watch this series. I'm hooked already!
rebecca
bring back tru calling all is forgiven
Sloane
Hmmm. Odd one this. Don't think it quite knows what it wants to be. Creepy thriller or Dawson's Creek with demons!. Pilot very slow, but could be a grower this one.
Crace
Stick with it by the end of the third ep it's more interesting
MARCEE
B-movie soft core porn: bland 1-dimentional characters, sped-up childlike plot, no emotional attachment, perfect hair and makeup (even when it shouldn't be). So disappointing.
phil
hugely disappointing after all the hype.the storyline had better improve or else people will switch off even though the female characters are pleasing on the eye
Alex
Whatever happened to Marti Noxon's other series, 'Still Life'???
ALLY
Yawn Yawn Yawn....
FHDavid
I am of the opinion that the pilot was split into 3 episodes. You need to see these first 3 shows before deciding about this series. There is more here than meets the eye.
David
The only thing I can say about it was that it was just "okay." There was nothing outstanding about it whatsoever. It was really rather quite bland. The only motivation any of the cast seem to have is to look gorgeous and get their kit off, which is in itself great, but I'd prefer a story to go with it too.
Marc
Couldn't get passed the first ten minutes. As soon it broke for advertisements, I stuck a 24 DVD on. When will they learn not to substitute fantastic telly with utter crud!
Simon
Had potential. Needs a bit more of the Omen and less of the OC. If it wants to be, I could see it becoming a successor to American Gothic, but I live in hope. Anyway, I suppose we have Carnivale for that.
Johnny
Extremely disappointing. The pacing was all off, the characters were bland, there was no chemistry between Christina and the family that "adopted" her, the directing was sub-par and the dialogue was cliched and ropey too. Not what I would expect from a pilot episode that is trying to grab an audience's attention and keep them with the show in the future.
Thank you for your comments. The BBC reserves the right to modify any messages before appearing on this web page.
---
---