24 Season Four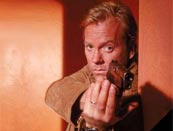 Review: Jack's back, and his day starts with a bang.
Drummed out of CTU for his drug problem last season, Jack Bauer begins his latest disastrous day 18 months later, working for Defence Secretary Heller – and sleeping with his daughter.
He seems happy, contented, and oblivious to the fact that less than two hours later he'll find himself kneecapping terrorists, chained to a railing while his partner lies bleeding to death on the floor or capturing a killer at the dry cleaners by remote control.
This is very much all-new 24, with very little from seasons 1-3 remaining. President Palmer hasn't been re-elected, Tony and Michelle are working elsewhere and ditzy Kim has probably forgotten to turn up. Either that or she's trapped in her bathroom with a cougar.
Thankfully, the real treasure of season three has kept her job. Grumpy computer whiz Chloe, played by Mary Lynn Rajskub, sulks and snipes her way through proceedings, injecting some much-needed black humour into the show.
New to the cast is Lucas Haas, who once played the little boy who witnessed the murder in, er, Witness. This time he witnesses several murders after he discovers terrorists tampering with the internet. Whether or not Jack will take him to Pennsylvania and help build a barn with the Amish later in the day remains to be seen.
As ever, 24 is packed with feature film-quality set-pieces, from an horrific train crash at the start of the episode to the spectacular kidnap of Heller by rocket launcher-wielding thugs. There's also a lot of senseless killing which, while gruesome to watch, ensures the viewer doesn't take events lightly.
Four years on, 24 shows no signs of running out of steam. Whilst it's a wrench to lose so many of the regular cast, rumours of guest appearances by old favourites abound and Keifer Sutherland still dominates the proceedings brilliantly, securing his status as US TV's finest leading man. We can't wait to see what the next 22 hours have in store.
24 can be seen in the UK on Sky One at 9pm on Sundays.
Send us your comment now. We'll publish the best on this page.
Silver Canuck
24 joins a sadly small pantheon of my all-time great TV shows (Hill St. Blues and M*A*S*H are others). Keifer... what can I say? The boy headed south across the border and 'pears to be doin' just fine. One of the most memorable character creations ever. Edgar and Chloe... both a tad wierd, both completely realized and credible characters. Nobody's mentioned the "quartered screen" technique... gotta like it...it heightens the sense of urgency somehow. Now I have to get my hands on Seasons 1 and 2, somehow. Have S.3.
John Anderson
Season four was totally SWEET!!!!!!!!!!!!!. It would be hard to top it. I loved the fact that right when u think it's getting better they throw another curve at you and make things drastically worst. It is so cool. I hope they continue to make more seasons because it is the hottest show ever made. If they really wanted to get ambitious they should make a movie. I'd see it.
Janice Somerville
Oh!Jack is so good looking. He is my man. He can park his shoes under my bed anytime.
Hannah
I love 24, the new season is the best of the bunch. I love it, I love it, I love it!!!!!!!!!!
Jack Bauer
After watching 24,it take me 10 mins to take in wat has just happened.... IT IS EASILY THE BEST SHOW EVER!!!!!!!!!
Joel Miranda
I think the new season is very much better than 3rd season.The adrenalin rush is just pumping. I wish we can get it on DVD and just watch it all the whole weekend.
Janelle
OMG I love this show!! season four is getting pretty juicy! so glad that michelle returned! she rox oh ya Kiefer Sutherland is a hottie! hes pretty old but who cares? bring on season 5! and then 6 then 7 then 8... and so on!
joe harrington
i was at first disipointed with the new cast but now im at the edge of my seat waiting to see how it turns out
Erick
Bring Back President Palmer
Connor
24 ROX MY SOX DUDE!!!!!!!!!!!!!!!!! SEASON FOUR IS THE BEST AND SO WAS SEASON THREEE IM FRIKKEN HOOKED
Bob Threlfall
What a cracking way to start the new and fourth series! With a new cast and old faces gone, it feels totally fresh with new faces and new characters. Only three episodes into it and I'm already on tenterhooks. Let's hope it has the same tension and twists and turns as Season 3, which I thought was the best season so far.
Sloane
Very apprehensive about this new series, given the fact Palmer, Kim, Chase, Tony & Michelle were gone. Didn't think it would work with virtually a whole new cast. Shows what i know!. Thought it was great. Far better start than Season 3, which ultimately was disappointing. Great to see Jack hasn't lost his edge. Could be the best season yet.
Danny Boy
Its just not the same without Elisha! Still a cracking show tho!
stewart eldridge
I think he just likes the fact that it legally allows him to shoot people who annoy him!
Mel
20 mins into the new series and I was a bit worried that it wasn't vintage 24. By the end of two hours I was hooked and trying to decide who would be dead in the next episode. Brilliant!
Daniel Brown
An excellent beginning to a what promises to be another action packed year to 24. Caught the first two episodes on Sky Travel, I can't wait for the DVD boxset! Its a shame though more cast members are missing, it's feeling a bit lonely, but I guess we'll just have to get used to the new guys - well not Jack's unwilling partner thats for sure. There wasn't a doubt in my mind that the bloke who took over from Jack wouldn't last very long.....
Peter Rubinstein
2 minor details. Kim Raver plays Audrey and she was not in Mutant X. Other than that I thought it showed promise. More than the awful season 3, but I look forward to seeing Tony again
Mike Rouse-Deane
I miss the regular cast and at first, it felt hard to relate to the story or get into it, but once the action starts, your back with Jack Bauer and BANG, you don't honestly care about the regular cast not coming back straight away, Jack's still blowing off people's legs and stuff - all of which is great stuff! Have you also noticed that even though Jack ain't bothered to go back to CTU, less than 2 hours into the day, he's now a CTU agent again :) He must love that job SOOO much!!!
Thank you for your comments. The BBC reserves the right to modify any messages before appearing on this web page.
---
---