Look Around You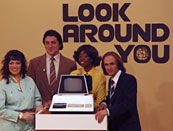 Repeat run of Spoof science show on BBC Four.
The second series of Look Around You gets a second airing on BBC Four, starting on Thursday 9 June at 10.30pm.
Join the team of Peter Packard (Peter Serafinowicz) Jack Morgan (Robert Popper) Pam Bachelor (Olivia Colman) and Pealy Maghti (Josie D'Arby), who bare an uncunny resemblance to Tomorrow's World presenters of yester-year.
In the first episode, Music, Look Around You presents the Music 2000 competition, a search for music the public will be listening to in the year 2000, with three finalists given 30 seconds to perform their compositions.
The team also finds out how the charts are compiled and meets the Chairman of the Royal Pop and Rock Association, Sir Alan Rees (Michael Fenton-Stevens) who is also the current French kissing champion.
Leonard Hatred (Mark Heap) demonstrates his invention Psilence, an anti-noise spray that seals the ears.
We also meet Britain's leading synthesiser expert, Synthesiser Patel (Sanjeev Singh Kohli), who demonstrates a water synthesiser.
Plus, Jack Morgan performs his follow-up single to Little Mouse live in the studio.
---
---