Shadowmancer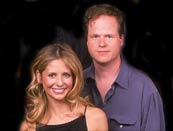 Joss Whedon top of the list to adapt fantasy novel.
According to Whitby Today, Buffy creator Whedon is writer JP Taylor's first choice to adapt his novel Shadowmancer.
The former Curate of Whitby sold the film rights to his novel to Fortitude films for £3 million last year. Now Fortitude and Universal are looking for a scriptwriter to adapt it.
Shadowmancer tells the story of 18th century vicar Obadiah Demurral who preaches from the good book to his flock, while privately practicing the black arts as a shadowmancer.
Taylor told Whitby Today: "They have it farmed out to six or seven scriptwriters. Universal and Fortitude want Joss Whedon who created Buffy the Vampire Slayer to do it.
"He's their number one choice and he is my number one choice, but he might be busy because he's already working on another project with Universal."
---
---