More Goodies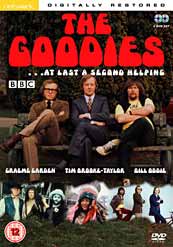 A second collection of episodes to be released on DVD.
Network's The Goodies... At Last - A Second Helping, out on 14 February features eight episodes of Bill Oddie, Tim Brook-Taylor and Graeme Garden fun - and a bunch of extras.
Included is Come Dancing, with Joan Sims and June Whitfield, Movies, in which the threesome try to save the British film industry, and Bunfight at OK Tearooms, where Graeme finds there's gold in the cream mines of Cornwall.
Extras include:
Gymnasium sketch originally broadcast as part of the Engelbert Humperdink Show
The Goodies singing A Man's Best Friend is his Duck on Crackajack (1972)
Christmas Night with the Stars 1972
Restoration featurette
The Goodies in Conversation featurette
Commentaries with Bill Oddie, Tim Brook-Taylor and Graeme Garden
Commemorative booklet
South Africa and Punky Business PDFs
---
---