For the kids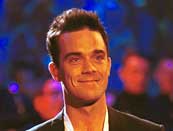 Magic Roundabout star Robbie Williams was scared of cartoons.
Talking to Radio 1 about his role as Dougal in the new CGI film of the surreal children's show, Robbie said that cartoons used to freak him out.
"It's weird - I became really scared of animation when I was a kid.
"Scooby Doo, The Magic Roundabout, Bagpuss and Mr Benn used to scare me for some reason - I used to hide behind the sofa when anything came on that was animated.
"I suppose that if I did have a favourite then, it would have been Dougal."
Robbie scared of something two dimensional? How surprising.
The Magic Roundabout, which also features the vocal talents of Kylie Minogue, Ian McKellan, Ray Winstone, Jim Broadbent, Tom Baker, Joanna Lumley, Bill Nighy and Lee Evans, opens on Friday, 11 February.
---
---