24 soundtrack CD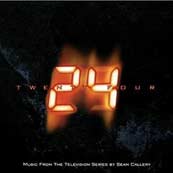 Review: We'd rather Jack than Fleetwood Mac.
To coincide with the start of 24's fourth season, composer Sean Callery has compiled nearly two dozen of his Emmy award-winning music cues from the show's first three years.
Opening with a previously unheard 'full-length' version of the 24 theme, the album experiments with a variety of styles, from dark, funky jazz riffs to brassy Bruckheimeresque orchestral pomp to bleak industrial techno.
Elsewhere, delicate Spanish guitar textures underpin season three's Mexican settings and mournful pianos underpin tender moments between Jack Bauer and his daughter Kim.
Bonus tracks include a cut from Tricky used in the series and Armin Van Buuren's epic dance remix of the theme. The PR people inform us that it's tearing up Clubland, but we're not sure it will make Keifer into the new Kylie.
Best of all – and this is no reflection upon the quality of the music – is a selection of CTU phone ringtones and intercom bleeps. If only we could get them into our phones, we'd spend all day pretending we were working to save the world: Rob and Ann would be having split-screen arguments via their mobiles in the BBC underground car park, James would be ditching a nuclear weapon over Shepherd's Bush in a moment of noble self-sacrifice and Daniel would be trying to track down missing Doctor Who episodes by the clever manipulation of Soviet satellite data.
Not the sort of album to get your party started, but an excellently crafted score to an excellent show.
Send us your comment now. We'll publish the best on this page.
Robert Perkins
24 - The Audio Experience is just about as rich as the visual one, except it 's got less Kim and less sexy Nina. A good one for all 24 fans.
Truman Proudfoot
I'm a huge 24 fan, and I've been wondering for the past couple years when they were actually gonna put a 24 soundtrack out there. Well, the day has come, and the CD looks awesome. I can't say I've heard the whole thing yet, but I've sampled a few songs on it, and they're amazing. I can't wait to expierence the full-meal-deal. Awesome stuff
Victor Drazen
I love the 24 soundtrack. Sean Callery's music is really emotive, and there are some really heartbreakingly sad pieces on there. But they're mixed in with the more upbeat tracks which sound ultra-cool. There's a great mix of styles on the soundtrack. It's essential for any 24 fan. You're in trouble for saying that about Fleetwood Mac though!
Thank you for your comments. The BBC reserves the right to modify any messages before appearing on this web page.
---
---