Angel's comic revival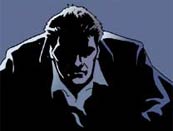 Vampire returns in five-part miniseries.
A year after he bit the dust on TV, Angel is set to return in an all-new series of comics.
IDW Comics have secured the comic strip rights to the show, previously owned by Dark Horse, and will launch with Angel: The Curse.
Angel is on the run in a mysterious forest in Romania, searching for the Gypsy clan that cursed him so many years ago. But he discovers that the landscape of Romania has changed considerably since he's been gone. Now, the Gypsies are oppressed, living under the thumb of a local warlord who holds his power by using a vampire army. Angel is forced to take a stand, and the resulting conflict may well doom any hope he has of reversing the curse.
The Curse will be written by prolific Angel author Jeff Mariotte, while Italian artist David Messina will illustrate the story.
Although this is an Angel solo tale, other fan favourites will feature as the series continues.
"To be asked to continue the story of Angel after five seasons on TV (not to mention dozens of books and comics) is really an honour," Mariotte told the Silver Bullet Comicbook website.
"Angel fans have been wondering where and how the vampire-with-a-soul's story would go from the series finale, which left Angel and friends in a pretty tight spot. I've been wondering too, but now I get to tell the tale myself, with direct input from Joss himself. What could be cooler?"
Angel: The Curse makes its debut in June.
---
---