A Life in the Theatre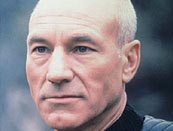 Review: Patrick Stewart's latest West End play.
Picture an ageing actor, at first suspicious and resentful of his new, much younger co-star, but who has a lot of knowledge and experience to impart.
The new actor has a lot to learn, and is at first in awe of his co-star, but comes to realise he's losing his touch.
Star Trek's Patrick Stewart is the old ham and Joshua Jackson, Pacey from Dawson's Creek, is the young upstart. -The stage is set for a humorous, yet thoughtful look at the life of two actors, but unfortunately, while A Life in the Theatre entertains, it rarely engages.
The problem is that there just isn't really a plot - it's telling when you read in a programme that a play hasn't an interval; suggesting that there isn't a dramatic point to leave the audience in suspense.
David Mamet is great at the behind-the-scenes observational stuff - the differences in approach to prepping for a role - but he falters when he portrays any action on-stage. The parodies of Shakespeare, a hospital drama etc. are just not broad enough to raise a belly laugh, or clever enough to raise more than a wry smile.
A Life in the Theatre is rewarding on at least one level - just watching Patrick Stewart act live on stage. With the bare-threads of a plot to hang a character upon, it's to his credit that we feel we have come to know him by the end of the performance.
Playing an aged old ham, Stewart could have gone for a bombastic approach, but mostly he chooses subtle gestures to make a point.
Joshua Jackson cannot hope to compete with such a professional - a matter of life imitating art - but he still manages to convince - and the many scenes set in the dressing room should delight his admirers.
More of a character and observational piece than a play, A Life in the Theatre is watchable, just a tad disappointing.
A Life in the Theatre is on at London's Apollo Theatre, Shaftesbury Avenue.
---
---