Judge Dredd: Solo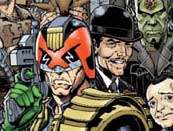 Review: Judge Dredd bows out of audio in fine style.
Solo is the last, for the present at least, in Big Finish's series of 2000AD-related audio dramas. It's a real shame - the range deserved to do a lot better. Their writing was top quality and the performances were excellent, especially leads Toby Longworth as Dredd and Simon Pegg as Johnny Alpha.
This is no exception. It's is light-hearted, humourous Dredd, perfectly in keeping with the satirical, anarchic tone of the original comic strip. If this story had appeared in 2000AD strip, Ian Gibson would have drawn it (real Squaxx dex Thargo will know what that means).
Big Finish have made a virtue of thrift with Solo - uable to afford a large cast, they've instead got Toby Longworth to play every single part. It works surprisingly well - if the packaging didn't make such a huge point of it, I'd probably never have noticed, such is Longworth's vocal range.
And it's great fun - Dredd must team with self-regarding spaceport bureaucrat Blarg to solve a murder and track down a shapeshifting alien. Along the way we get to meet clanger-like whistling aliens and deadpan ships computers, hear Dredd's answerphone message ("if you are a perp phoning to turn yourself in, press one") and find out how Mega-City One's greatest lawman sounds on helium.
The only weakpoint of Solo is Blarg. He's a Betelgeusian, like 2000AD's fictional "editor" Tharg, and looks just like him, as one can see from the cover illustration. It's a nice gesture to 2000AD fans to include such a character - but it doesn't work because that element of the 2000AD world has always been, well, rather an embarrasment to most of 2000AD's fans. One for the kiddies really, and I don't think they're the target audience for these CDs. Still, Longworth makes a good fist of playing him, and the release is a worthy curtain for Dredd on audio.
Also included on the CD is a twenty minute video featurette about the recording of the play, which is absolutely fascinating. Seeing and hearing Toby Longworth morph from cool cat Max Normal into harsh Judge Dredd is amazing - almost unnerving. When he sets his chin as Dredd, you will believe that he is the law.
Send us your comment now. We'll publish the best on this page.
Andy Mc
I wonder how many they had to sell to make them profitable? Great fun, well written and ably acted. Shame there will be no more. How much bigger is the Dr Who market then?
boxer
Sad to see the series end, but perhaps we'll hear more of them on the BBC website now?
Ian
As a 2000AD reader since Prog 1 I found these 2000AD audio drams are(were) brilliant. Whilst I understand about the economics, I'm really sorry to see them stop and would like to thank all at Big Finish for the excellent job they did.
gary dobbs
I'm sorry to see these go. The stories were much better for audio adaption that the Doctor Who range which I find often confusing and hard to follow. Also the comic book style of the original with its satirical elements worked well in audio format. Drokk this is bad news.
Steve Duerden
What a shame the 2000 AD releases have come to an end. At least they went out in style. We'll miss you Dredd!
Alan
A brilliant way to end the series. Have a rethink Big Finish, 2000AD is a breath of fresh air!!!
Thank you for your comments. The BBC reserves the right to modify any messages before appearing on this web page.
---
---