Scarlet art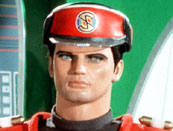 Original series artwork goes on display.
Starting tomorrow and running until 26 February, the Animation Art Gallery hosts an exhibition dedicated to Captain Scarlet.
The closing credits of the Sixties animated series featured stunning artwork capturing Captain Scarlet in action.
Now Ron Embleton's artwork can be seen in all its glory. You can also buy limited edition prints signed by Francis Matthews, the voice of Scarlet.
The Animation Art Gallery is located at 13-14 Castle Street, London W1W 8LS.
---
---