Captain Scarlet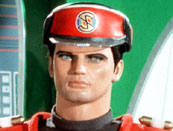 Review: All-new CGI version interrupts Saturday mornings.
Honestly now, if somebody had said to you five years ago that 2005 would see a revival of Battlestar Galactica praised for its gritty realism, would you have believed them? Nah, course you wouldn't. And after last year's live action Thunderbirds debacle (kiddie geniuses saving the world, I ask you...) the new CG revival of Gerry Anderson's legendary puppet series Captain Scarlet certainly had a lot to live up to.
Having sat through an hour of screaming brats throwing cakes at each other on Ministry of Mayhem (and that was just Lee from Blue and the presenters), those who tuned in to ITV1 last Saturday morning must have sat staring at the screen in shock. For not only is the new-look Captain Scarlet top-notch telefantasy entertainment, it's also unremittingly grim, nasty and totally unsuitable for younger kids. Gruesome deaths? Check! (Man squished to death inside a car crusher) Resurrected corpses? Check! (Captain Black's hand punching through the top of his coffin must surely have causes some sleepless nights for the ickle ones). A hero who's been brought back from the dead and who's now no longer human? Check!
Gerry Anderson's team has done a fantastic job at bringing the Captain Scarlet story bang up-to-date. All of the ships and vehicles are recognisably similar to the ones in the original puppet series, but they now feel a lot 'heavier' and realistic than before (which is more than a little ironic).
Even the new voices are just about tolerable - it'll take a while to forget the dulcet tones of Francis Matthews and Ed Bishop, unfortunately. In fact, the only thing about the new series that seemed to misfire was the music - a complete lack of any kind of recognisable theme tune melody is a real shame. And as for the reworked 'Chris Evans rapid head swivel from one camera to another' music - sheesh!
But still, a magnificent reworking of an old telly classic. Now let's keep our fingers crossed that the revival of another old telefantasy series is equally as good. Let's just hope that Doctor Who doesn't get scheduled in the middle of Dick 'n' Dom in Da Bungalow...
by Paul Condon
Send us your comment now. We'll publish the best on this page.
Rob
Far and away the best family show in ages. The animation is terrific, the scripts sharp and pacy, the action constant and varied and the major characters - especially Captain Black - are head and shoulders above their dull 60's counterparts. For all that the biggest mystery is why ITV appears so reluctant to promote the show. I've seen very little on-screen publicity. Don't they realise that NCS appeals as much to adults as it does to childen? Perhaps it's all a Mysteron plot!
Dave T
This is the best show on TV at the moment, why it never had a proper time slot and massive advertising from the start of the series I'll never know. As most others here the theme tune could have been a bit catchy, only getting better by the time Cpt black arrives on screen, the "other" tune they tend to use aint to bad but wonders if the end credit tune will be like the original? I want the DVD please.
Robert Williams
I very much enjoyed the whole series especially the final episode. There was one episode when the CGI was very bad (the ghost episode) but this did not diminish the series as a whole for me. When's the DVD out?
Charlie Keeble
This new CGI series is a whole new dimension for Gerry Anderson's classic productions. This certainly will make a great comeback among others Doctor Who and Hitchhikers. How about Thunderbirds being revamped first good old Mr Anderson!
Richard Jennings
Fantastic new series and in sympathy to the original series. Why is it on kids TV ? When is the DVD out ??? Never has Saturday morning TV been so much fun since Swap-Shop !!! BRILLIANT !
ian how
Excellent!!! Wicked!!! With Gerry Anderson at the helm Captain scarlet is most definetly back!! Like most of the other adult fan base my only complaint is the peculiar time slot that has been alloted !!! I realise that for the toy industry it is vital to get the children ready for Christmas, but the Ministry of Mayhem ???!! Surely an awful lot of people tuning in must be middle aged like me ?? please rethink the time slot for the next batch of episodes.
Dan Riley
Really enjoyed this new take. I was always more of a Scarlet fan then Thunderbirds and this version does seem to hold up. I agree with most of the comments here that its a crime this should be shown sandwiched in MOM. PLEASE, BBC (or even Channel 4) rescue Capt Scarlet from this nightmare schedule and put it on at a decent timeslot.
Sunny
Why is Scarlet trapped in MOM? Surely such a placement cuts viewing. It should have been placed nearer to a prime time slot.
Lewis
Did anyone see episode 3?! Absolutely brilliant stuff, a cast improvement on the last two episodes and things can only get better!
cliff chapman
like the new version shame voices are not the same capt scarlet american(never)he`s as british as fish and chips hope it keeps going as good through the rest of the series
Matthew Atkinson
A tremendous (and brave) reworking of the original. However, the pacing is incredibly fast. Just as your're getting that familar tingle down your spine whoosh! off at a tangent somewhere else. Having the benefit of a hard disk recorder is a definite plus to jump through the rubbish that surrounds it but not if your wife turns it off so you miss the first half of episode one... I look forward to the release of the dvd boxset which will hopefully coincide with this viewer's upgrade to a pixel plus plasma.
Paul Taylor
The real difference between the CGI series and the 1967 puppet series is that with the puppets it was the realisation of exciting futuristic vehicles and scenarios which made it exciting. In complete contrast, with CGI it is the realisation of the people and how they move and interact which is fascinating. Simple scenes like Scarlet shaking hands with the FBI Chief and the fight sequence between Scarlet and Blue were thrilling. The highly charged meeting on the stairs between the Mysteronised Captain Black and his ex girlfriend, Destiny, was riveting! In CGI it is the people that count not the vehicles!
Craig Johnson
I'd just like to add, remember the scene in an old 60's captain scarlet were captain black tells someone "if you at all value your life do exactly what i tell you" and then when he does it he kills him in cold blood!!! ask your self is that ok for kids to watch?
Lewis Brown
An intelligent British action/ science fiction series? About time too. It is ironic that it's placed on a show that is it's exact opposite, but that is the state of affairs at the moment. Unfortunately, it is likely that after the first series that 'Captain Scarlet' shall be put in a really strange time-slot, like all saturday morning programmes.
Thomas A Evans
Gerry Anderson's New Captain Scarlet is a masterpiece...in the making. All programmes need time to grow and the viewers need time to adjust to the new surrondings. I thoroughly enjoyed the opening episodes, even though I found them to be slightly unsuitable for kids, but thats why kids will love it! I even enjoyed the new theme and score by Crispin Merrell's (who worked with Gerry Anderson on Space Precinct). Gerry Anderson is a living legend in family entertainment, so for those of you who are not quite on the Captain Scarlet Fan Wagon, trust that this series has loads of potential. Thank you Gerry, its Fantastic!!! But for goodness sake, Get it off MOM, and get it on BBC Two at 6.00!!!
Abdullah Azzam
I completely loved the look of the new show but I think it will take me longer to get into its world - the plot moved just a little too fast and there were too many chases instead of character development. The hardware and machines were absolutley fantastic, as you would expect from Gerry Anderson. Still prefer the old SPV though.
Marcus Rogerson
I've only seen half of Episode 2... (Sadly my Video Recorder isnt up to the job of decently timing recording a program).. but... from what I saw this is as good, and worse than, the original in many ways. As said by nearly everyone the music is a let down, and the lip-sync almost unbearble. But... for a kids TV Show... the grahpics, the plot, the decidedly grim tone of everything can't be beaten. Superb.
Neal Weiser
Not a bad start but can somebody ask Gerry Anderson what he thought he was doing allowing ITV to put the show in the middle of the worst rubbish I have seen in years and then to add insult to injury split it into two parts!Thank God for hard drive recorders!!
Craig Johnson
The old captain scarlet is a classic. Today The Mysterons are still the best aliens ever thought up by the human mind. I think a live action Captain Scarlet would be better! And as for it being a kids programme, the old 60's Captain Scarlet should only be viewed by 15+! This one should be 21+.
Russell Buer
Come back orginal Cap Scarlet all is forgiven
Andy Cloke
Well I agree and I disagree. The new series is not a patch on the old one so far as style and atmosphere goes. I remember being scared of the original Captain Black in the graveyard scene. Who's going to be scared of a computer generated image standing in front of phoney lightening? I'm sorry but when will Mr Anderson realise that it's really the puppets and the excellent model effects that made his shows stand the test of time. In five years the new Captain Scarlet will look dated - the old one never will. I liked the old Anderson puppet shows because everything in them was 3-D and solid. The new one is really just a glorified cartoon.
Brian Richardson
Thank heavens for the fast forward button:) As a dyed-in-the-wool fan of the original show (from the first time round)I have to admit I was very impressed by the first CGI effort. The only thing that I felt let the side down was the music - as someone said before - there was no recognisable theme tune and the re-worked "Duh-duh duh-duh-duh-duh-duh" was hardly noticeable.
Paul Tapner
Animation was stunning in parts and too obviously CGI in others. All in all a promising start, although it will take a while to get used to some of the voices being different. I taped it and fast forwarded through all the surrounding programme. And I will be doing that every week till the DVD comes out
Darren Allen
It took my five year old son half the episode to decide that as much as he likes the original, this is better. I can see why; great show pity about the timeslot.
Paul Mount
The original Captain Scarlet was never one of Anderson's better shows (hello, UFO!) and this snazzy reworking, whilst entertaining, suffered from the same dour humourlessness that makes the original such hard-going these days. Plus the script didn't really set the scenario up. Who are Spectrum? What exactly do they do? What's their hardware? Is Scarlet dead or reanimated or a clone? Why doesn't anybody say anything funny? Still, it looked nice (albeit a bit creepy in the way that CGI often does) and was obviously entirely unsuitable for Saturday morning kid's TV. However, it's just nice to see the genius of Gerry Anderson back on the box!
Jamie Austin
A superb reworking of the original "Captain Scarlet" series for the new century with some slick animation. I was glad to see that the spirit and iconography of the original series was retained - it was a considerably better show than I'd dared to hope. The downside, of course, is the mind-numblingly inane "MOM" which makes "Crackerjack" look like a Dennis Potter play!
Ben Daykin
I think it is a big step for pupety to CGI and many peaople are giving the new Thunderbird film (shivers)Captain Scarlet is under fire. Me being a diehard fan of Gerry Anderson I must now shot myself for missing the fist episode ,but if it's played on MOM it wont take long for it to come out on DVD. MOM? it even stupider than dick and dom.Why cant the new Cptain Scalet TV series be on BBC in the afternoons?!?!
Nicholas Kingsley
Not bad at all, although it will take another episode to see if its better than the original. Some of the script was rather tacky - the car/motorbike case in particular. Lip-syncing was poor. Hopefully this will improve. There are a few things going against it - first its in a "childrens" program, and split in two (which it shouldn't be). The second is that the music is awful.
Tony
I thought it was about okay. I watched it mostly for novelty value. Okay for kids, I suppose. Actually I enjoyed the MoM show that surrounded it. And I'm 44, dammit. That lady presenter was a bit cute.
John Gorman
I find the new CGI no more violent than the orginal (inthe original you had Captain Brown catching fire and exploding in the first epsidoe and numerous incidents like a man squashed on a car ramp) as you rightly say the music is a let down the theme will never remain in the head like the original does and what music could hope to match Barry Grays. The vehicles dont have the sharp defined lines of the originals. What I assume was supposed to be a spectrum patrol car was nothing out of the ordinary. It was fair enough in todays endless stream of tv mediocrity but I suspect that as theres so much CGI round and done better and the fact that it is trapped amidst the most puerile TISWAS progeny (a tribute to the moron element in British society)will ensure that this version doesn't last as long as its famous forebear.
John Porter
Excellent, thouroughly enjoyable, but even my 3 year old daughter wanted to know why The Mysterons that run MOM insisted on the episodes being split in two!
Wolfgang J. Flywheel
This programme is utter rubbish. Animation looks like bad PS2 graphics. Terrible hackneyed scripts. Car chases and the like had a novelty value when done with models, but in CGI are tedious in the extreme. Considering how smart and adult so much cult TV has become lately, this was a terrible wasted opportunity. A seven-year-old might find it moderately entertaining, but surely nobody else.
Dale Williams
When will it be out on DVD, I cant wait, won't have to put up with the insanity before, between and after it! More simply, Can't they just put it on as a stand alone series, not within the kiddies TV?
Paul Nethercott
Totally agree with your review - really enjoyed it! however, the interruption at half time (to allow a game to take place and the mum of Lee from Blue to give Essex girls an even worse name!) was annoying. Hope this doesn't continue in the coming weeks. Catch this show if you can!!!
Rob Cook
The new Captain Scarlet a kids show?! This vastly improved version deserves a primetime slot in place of the endless soaps and cop show repeats!
Katherine Cameron
You're braver than me. I managed about two minutes of MOM before deciding I couldn't take it any longer!
Thank you for your comments. The BBC reserves the right to modify any messages before appearing on this web page.
---
---