Sherlock Holmes Classic Films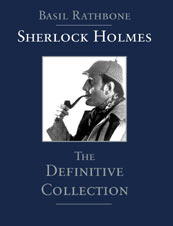 Review: Basil Rathbone's sleuthing remastered.
For many people these films were their first experience of Sherlock Holmes.
Charming, thrilling, and quaintly dated, this boxset is gripping viewing, starting with the classy victorian-set Hound of the Baskervilles, and plunging through to the later 1940s cheapies like Dressed to Kill.
Stylistically the series veers between Rebecca and Topper - one minute all atmosphere and danger, the next lamentable bumbling, weird locals and creepy castles.
If Rathbone's suave, snide Holmes is the one people still think of, then Nigel Bruce's blustering buffoon is the Scrappy Doo of Watsons. He starts out fine, but by later films, they're even dubbing in extra bumbling noises as he walks around.
The DVD set makes gripping viewing - the joyous slasher movie that is The Scarlet Claw, the rather sinister House of Fear sharing space with propaganda pulp like The Secret Weapon and the dizzying Sherlock Holmes and the Spider Woman are all highlights.
There's an interesting feature about the restoration of the films (puzzlingly, on every disk), unreadable production notes, and some informed commentary by Holmesian David Stuart Davies, though it's quite dry stuff, and he occasionally ignores fabulous things to intone mindless lists.
One criminal example is when the glowing man appears on the moors in the Scarlet Claw - it's an amazing effect, and we were all dying to know how it was done. The commentary simply admits it's a remarkable effect, then gives us a list of the other films the effects man worked on. Gah!
These films are adorable - you've got Rathbone's fine Holmes (who closes most films with a pompous speech - frequently nicked from Churchill), you've got villainous villains, and you've got some stunning camerawork.
Do also check out the book Sherlock Holmes On Screen by Alan Barnes, which is almost indispensable to anyone watching these films.
Send us your comment now. We'll publish the best on this page.
Roger
It is nice to see the improved quality- but I was hoping for something more like the Doctor Who restoration team have achieved with their Who releases- the pictures are less blurred than the previous release but could still be cleaner!
Steve
"There's an interesting feature about the restoration of the films (puzzlingly, on every disk)..." But surely, it is elementary. They are planning to release the discs individually when sales of the boxed set tail off.
Thank you for your comments. The BBC reserves the right to modify any messages before appearing on this web page.
---
---