Sarah's Robot Chicken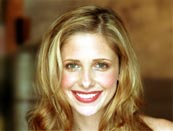 Buffy stars reunite for Green's animated comedy.
Sarah Michelle Gellar has teamed up with former Buffy co-star Seth Green for Plastic Buffet - an episode of the latter's new sketch show.
Robot Chicken, devised by Green, uses action figures to perform satirical skits. The makers claim that they spoof everything from Quentin Tarantino's blood-spattered epics to The Real World, in which a cast of superheroes takes the place of drunken 20-somethings.
Stars flocking to voice characters on Robot Chicken include Scarlett Johannson, Burt Reynolds, Mark Hamill and Macauley Culkin.
Sarah will voice herself, and a Buffy doll will presumably do the rest. But will it be 12" Graduation Day Buffy, with faux leather coat or 5" Vampire Buffy with gripping hands and extra crossbow? We wait with baited breath.
Other highlights of the upcoming episode include Meteorgeddon, in which Harrison Ford and Aerosmith fly off to stop an asteroid that could destroy the Earth, and a post-Muppet Show history of Dr. Teeth and his band revealed in Behind the Music: Electric Mayhem.
---
---