The Secret Garden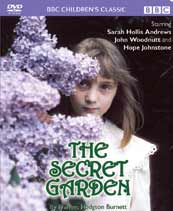 Edwardian children's weepie comes out on BBC DVD.
First shown in 1975, The Secret Garden tells the story of spoilt child Mary Lennox, country boy Dickon, and bedridden invalid Colin Craven.
Together, the children bring a hidden garden back to life, the friendship between them growing along with the flowers. It's wonderfully sentimental stuff, complete with tragic deaths, gruff misunderstood parents, and a little boy throwing aside his wheelchair to walk among the crocuses. Ahhh.
The DVD is part of BBC Worldwide's Children's Classic range, and comes out on 21 March. It features extra footage and a reunion interview with the cast, and comes packaged with information about Frances Hodgson Burnett's life.
---
---