Red Dwarf VI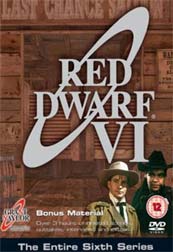 Review: Adventures on Starbug in the latest Dwarf DVD release.
Red Dwarf series six, released on DVD today, finds Lister, Rimmer, Kryten and the Cat stuck together on Starbug, trying to catch up with Red Dwarf. That's not good for them, what with the combination of cabin fever and continuous threat, but it makes this probably the show's best series ever.
Even if you disagree with that, you'd be hard put to fault this DVD release. As well as six superb episodes, including Emmy award winning Gunmen of the Apocalypse, features on the set include cast and fan commentaries, several documentary featurettes, raw effects footage, deleted scenes and bloopers. All are accessed by rather nifty animated menus showing Starbug's interior. In fact, there were so many features that I just plain ran out of steam half way through Howard Goodall's explanation of how he wrote the music. No offence Howard, you were very interesting, but, like Snow White after the first week, I was just "dwarfed out."
Best feature by a mile was series overview documentary The Starbuggers. It was excellent, full of fascinating behind-the-scenes footage and great interviews, and going into just the right amount of detail. Even the guy who played Lister's ugly Gelf bride in Polymorph II: Emohawk pops up to chat about the experience - apparently he freaked out Craig Charles by coming on a bit strong. Though Charles did admit that he'd probably picked up uglier women after a few pints.
There was also a slightly odd feature on Laredo, the "wild west" town where Gunmen of the Apocalypse was filmed. It turns out to be a reconstruction somewhere in Kent - obviously the perfect location for dumping dead drunk naked grooms-to-be for maximum confusion. Robert Llewellyn revisited it to reminiscence about the filming, only to be defeated by determination of the hobbyists who inhabit the town to talk only about matters Western. Frankly, I was surprised he got out of there without being tarred and feathered.
Sadly, the fan commentary is an idea that nearly, but doesn't quite work. That's because, alongside two amusing and well-informed blokes, there are two twittery idiot lasses who can't shut up for a second, and who think comments like "Oh, this is that bit" will be edifying for the viewing public. I wouldn't even watch the news in the same room as these two, let alone something this good. The blokes are welcome back any time they like though.
Dwarf completists will be thrilled at the acres of deleted scenes and effects footage. Most people will regard them more like the British Hedgehog Preservation Society - you're glad it exists, but probably won't be making any actual use of them. Don't watch the Sick Music Featurette - it's the only rubbish note in an otherwise brilliant package.
Send us your comment now. We'll publish the best on this page.
DB
Series 6 - 2nd. Best. Series. Ever... (behind 5)
Charlie Keeble
This time round the dwarfers are lost but not forgotten. This has to be a series of intergalactic escapades that hystericate all the humans-or at least that's what the vindaloovians have to say. (LICK!)
Keir Shiels
As one of the fan "blokes" on the commentary, I would love to come back anytime! thanks for the vote of confidence!
Jonathan
Season Six. One Word. Fantastic! The Best Set Of Episodes The Dwarfers Have Produced
Keith
The option to view the episodes with the new effects or the original effects would be nice - Rather like some of the Doctor Who DVD's. But then again, would that mean having to run the episodes over two discs and still have a bonus features disc? If so, it could be a little more pricey, but I'd certainly still be willing to pay. Anyway, this was the series I've been waiting a long time for. Many thanks to the good ol' Beeb for finally releasing it!
dave
the first two series are the best, but series six was good because it was totaly new and different two all the previous series
Kate
I still think the first 2 series of Dwarf are the best, but Gunmen of the Apocalypse is an EXCELLENT episode. Lister's snogging air with full tongues.... classic!!
TotallyUnzipped
I wish they'd release the "new effects" versions on DVD I'm not buying them until they do!
Thank you for your comments. The BBC reserves the right to modify any messages before appearing on this web page.
---
---