New Tachyon TV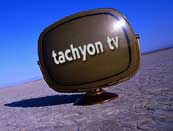 The latest issue of the sci fi satire is out now.
Tachyon TV's issue 22 tackles the important subjects of how Enterprise can be kept cancelled, the stresses and strains of the Doctor Who publicity photo drought, Ron Moore's plans for Dad's Army, and the latest Big Finish spin-off series.
It includes a very rude word so if you don't like swearing, don't go clicking on the link below to read it and then come complaining to us.
---
---