Galactica update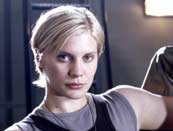 Big episode order for season two confirmed.
Further to our recent news that Battlestar Galactica would return for a second season, the Sci Fi Channel has now confirmed an order for 20 new episodes of the show.
According to the Zap2it.com website, production is set to begin in Vancouver in March, with new episodes set to screen in the US by the summer.
As with season one, the episodes should air in the UK on Sky One around the same time, if not sooner.
Galactica has surpassed ratings for Stargate to become the Sci Fi Channel's biggest hit, with more than 3 million viewers per episode.
The main cast have all been signed to reprise their roles in the second season, with executive producers Ronald D. Moore and David Eick returning too.
---
---