Accessorising Angel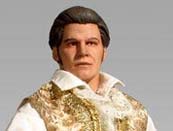 Bizarre bits accompany new vampire doll.
Toymakers Sideshow Collectibles have announced their oddest action figure yet - a 12" Angel from his pre-vampire days.
The figure - sculpted by the fabulously-monikered Oluf W. Hartvigson - is amusing enough in itself, what with its Darla bite detail, embroidered vest and slop pants. What tickled us most, however, were the accessories.
For your $40 you get the following fab extras:
The Orb of Thesulah (a bit early, but...)
Several small animal bone piles (eh?)
Ceremonial candles (nice for ambience, but why?)
Ceremonial skull with pillow (what on Earth?)
Sadly you have to provide your own cursing gypsies and centuries of brooding self-pity, but it's a pretty interesting package nonetheless.
The figure is limited to 750 pieces and will be available at local sci fi emporia in a month or two.
---
---