Smallville: 6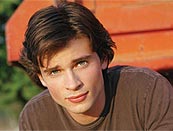 Review: Swapsies time in Transference.
Ratchetting up the cliché counter another notch, this week Smallville resorts to that old sci-fi standby, the body-swap plot.
Here it's the turn of Lionel to do the do with Clark, courtesy of another artefact from the planet Krypton, which turns Clark a bit dizzy down on the farm. Speeding to the jail he pushes Lionel away from Lex just as transference is about to take place... you can guess the rest.
Previously we've all loved the Clark-goes-bad episodes, but here it seems all a bit hackneyed. Yes, there are some moments of great humour, especially when Lionel stands back and admires his new physique – especially what's downstairs. But also there's a lot of repetition.
Yes, you've guessed it, Clark tries to get all down and dirty again with both Lana and Chloe, leading to more clumsy bridge-building scenes at the episode's end. Fortunately, it avoids being a complete dud by developing the whole Lex-Lionel-Clark story-arc, and even sparing time for a number of revelations.
Lionel is dying, Lex is less accepting of Clark's explanation of his þnew-found' powers, and Clark learns of Lana's new love. More importantly, the artefact is shaped in such a way that Clark realises it will fit into one of three slots in the Smallville cave – ooh, it's just like the Crystal Maze.
The episode closes with the artefact in the hands of Doctor Bridgette Crosby (Margot Kidder). What does she intend to do with it? With many episodes left to go, I doubt it will be a case of "tune in next week..." to find out.
---
---