Complete Bugs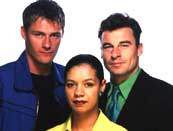 All four series of the hi-tech crime-fighting drama out on DVD.
Out on Monday 7 March is The Complete Bug DVDs box set. The drama, which started on BBC One in 1995, featured the adventures of a crack crime fighting team consisting of Ed (Neighbours' Craig McLachlan), Ros (Jaye Griffiths), and Beckett (Jesse Birdsall).
Together they are contracted by Jan (Howards' Way's Jan Harvey) head of the mysterious Bureau 2. Using gadgets galore, cobbled together from household objects and new inventions, they save the world from various megalomaniacs.
At the start, efforts were made to locate the series in an un-named city (in order to maximise worldwide sales), but its use of Docklands locations gave the game away.
The series also stepped away from its action adventure remit and became more soapy as it went on, especially when Steven Houghton took over the role of Ed for the fourth season. Interestingly, nobody noticed that he'd swapped his Aussie twang for a Northern accent - perhaps they thought he'd just become Anglicised.
The release comes with a bonus disc containing an interview with author and series consultant Stephen Gallagher.
---
---