Connector closing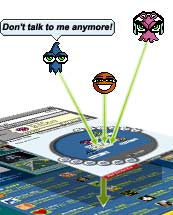 BBC pilot chat service comes to an end on March 14.
We're sorry to have to announce that the BBC's Connector service, which let users chat to one another about BBC web pages, will close on 14 March.
The service, which currently runs on the Cult, Radio One and Strictly Come Dancing websites, was only ever meant to be a trial, and has now run its course.
The Connector Team issued the following statement:
"The pilot chat service has been running on several BBC websites since May 2003 and many thousands of people have made use of it. The BBC has now completed its evaluation and has decided, in the light of the limited funds available, that other forms of interaction take a higher priority in the short term."
"We are constantly considering new ways to let our audience interact and the valuable learning we have gained from running this pilot will be reviewed and feed into any future development."
We on Cult would like to say thanks for all the great chat, and all the fantastic feedback we've had from you about Connector.
---
---