Point Pleasant panic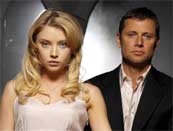 Series in trouble as ratings slide.
The future of Point Pleasant is looking shaky, as US ratings continue their downward spiral.
"It's heartbreaking," creator and executive producer Marti Noxon told the E!Online website. "We feel like we've really found our footing in the later episodes, [but] the show is sort of fading out...
"I'm not sure whether I'm supposed to say stuff like this, but I certainly think our chances of coming back are pretty slim if the ratings don't pick up. We need fresh eyes."
In a bid to boost ratings, Noxon has brought back popular Buffy cast member Adam Busch for another episode, and is still seeking to do a deal with Spike actor James Marsters to join the cast if the series survives to a second season.
---
---