Galactica Podcast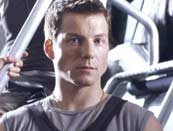 DVD commentaries to downlaod to your i-pod.
The Sci Fi Channel in America has joined forces with Ronald D Moore to produce the first ever podcast offered by a television network.
Moore has recorded a DVD-style commentary that US Galactica fans can download and listen to while watching the final five episodes of the show's first season.
The commentaries will be available in the MP3 format.
If successful, it is expected that the project will repeated for the whole of the second series.
---
---