Family Guy on stage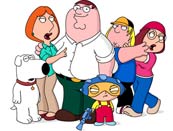 Live stage version planned. With songs.
Not only is there a new series in May, but Seth MacFarlane's creation is coming to the stage.
Variety reports that a show is planned in LA this spring, with a US tour to follow in the summer if it's successful.
A mixture of stand-up, performance and musical, the show will feature the cast reading an episode of the show, singing some songs from the forthcoming Family Guy Live in Vegas album, and then doing a question-and-answer session. So, a bit like Round the Horne - but with evil.
Fox really are flogging this once-dead horse. Or, as their VP of marketing put it, "We're taking a really valuable franchise and bringing it to the two biggest markets in a way that's organic to the strengths of the show."
Send us your comment now. We'll publish the best on this page.
paddy
i love family guy and have already downloaded some season 4 stuff off t'internet, and its looking just as if not more funny than before!! - didn't know it was going to start on BBC, that is so cool, if they put it on at like 6 (they won't though - watershed) people will watch it instead of simpsons - it'll become the new simposons and then a decade later channel 4 will buy family guy
Elton
Fantastic news! I love watching this on DVD and with the news on BBC - I'm over the moon! Looking forward to it with much pleasure!
Tareq
Family Guy rules, American dad is good as well Cant wait til they come on UK TV.
Jasdeep Nagra
Brilliant news! Family Guy is fresh and controversial. True that without the Simpsons Family Guy wouldn't have existed but if you watch new episodes of the Simpsons you will see that Family Guy has influenced it! The storylines are getting poor in Simpsons but the first eight series are pure brilliance!
Mike
family Guy is a wonderful series. Stewies' "Rocketman" bit has to be the funniest thing i've seen in a long, long time. Can't wait for season 4!
Darren Nicholls from Merstham
This is sweet news. A complete master class of comedy given a second life thanks to the fans making obvious that cancellation was a stupid mistake. Fingers crossed Futurama returns!!
Aidan Holsgrove
I agree with Martin...Family Guy make an episode of the Simpsons look boring! Seth MacFarlane is a genius. I can't wait for the new series and it would truely freakin sweet if they did a live show in the UK!
Sara
I'm excited about the new season, but remember - if it wern't for shows like The Simpsons, we probably wouldn't have Family Guy.
Alastair
Fox were nearly the runination of the show because it fell outside the classic 'formula' that Amercian television is spoon fed from. I hope they take a lesson from this and learn that creativity and origonality are hard won but will ultimatley reap the greatest rewards (not necessarily monetarily based mind you) in the long run. Overall well done and I look forward to the show coming to the UK Bristol! Bring it on.
Hamish the PolarBear
I am a HUGE FG fan but this idea is so surreal that I can't work what I think of it! If they do go ahead I hope they come to the UK (and hopefully not just some overpriced London venue).
Keith Fearnley
Family Guy is probably the funniest show I've ever seen. I was originally put off by the prospect of a talking baby and dog, but once you get past that, there isn't a minute goes by that the show doesn't have me in stitches! Long live Family Guy!!!
Anthony Mc Guinness
That sounds like the plot from an episode of Family Guy instead of something they'd actually do. Bit sceptical on how it would work but I suppose we'll have to wait and see.
Stephen Brennan
Typical TV executives. Axe a show because the ratings aren't high enough, and then when they finally realise what a gem of a programme they have on their hands milk it for all it's worth. Long live Family Guy!!!
Visceral Slice
The fact that the Family Guy DVD sales were enormous is a testament to the writing, intelligence, popularity and all round funniness of the show. It's great to see that there will be a new series, but surely pimping the franchise out and turning it into a stage play, musical CD etc is just a cynical way of turning a genuine TV gem into nothing more than a ca$h-whore, and proves that the Fox TV execs only give a monkey's about profits... Good luck and kudos to creator McFarlane, but please don't ruin the Family by killing it with capitalistic greed!
Adam Johnson
New series in may?? Best news ever, I'm glad to see fox is willing to produce and continue to produce cartoons that aren't the simpsons. Even if I still haven't forgiven them for cancelling Futurama...
dani
Freakin' sweet. Too bad they're not coming over this side of the pond
R3000
wow! it has a certain style to it, i must admit...anyway, MAS
Geraint Hughes
This sounds brilliant. A UK tour is a must as well, to see the guys on stage and then to have a question answer session with them would be absolutely brilliant. This program is one of the funniest I've ever seen.
Martin
I'm glad theres all this new Family Guy, by far superior to the now boring and stale Simpsons.
Thank you for your comments. The BBC reserves the right to modify any messages before appearing on this web page.
---
---