Star Wars toons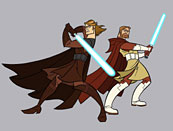 The Clone Wars animated series comes to TV.
Toonami, the satellite and cable channel, will be showing a new series of Star Wars animated shorts from Monday.
The new Star Wars: Clone Wars mini-series fills in the gap between the second film Attack of the Clones and the third, Revenge of the Sith, which opens at cinemas on 19 May.
For the uninitiated, the Clone Wars is an epic civil war that pits the old Republic against a vast Separatist movement led by the forces of evil.
Boo and hiss at brand-new villain General Grievous, military leader of all the Separatist armies, who will play a pivotal role in Star Wars: Episode III.
Star Wars: Clone Wars airs on Toonami from Monday 21 March.
---
---