Klingon cinema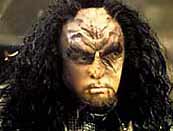 Klingon language documentary maker interviewed.
The BBC Leicester website have recently caught up with Alexandre O Phillipe, director of documentary Humans: Ugly Bags of Mostly Water, about the Klingon Language Institute.
He talked about how a copy of Hamlet in Klingon inspired the film, how Solaris influenced its style, and just what Klingon-speakers are like as a group.
"The initial shoot, when we were with the people for four days for long hours was probably the most bizarre few days of my life. But the people in the film know how strange they must seem to others."
The film itself premieres tonight at Phoenix Arts in Leicester. For more details, and to read the full interview, click on the link below.
---
---