Clark's shoes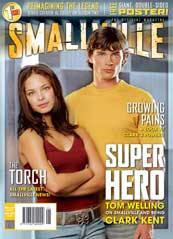 Tom Welling interviewed in the first edition of new magazine.
Following on from the success of Titan's Smallville Yearbook comes the first monthly issue of Smallville Magazine is released this Thursday, 24 March.
In the first issue Tom Welling who tells us about the challenges of portraying the young Clark Kent.
"It's not easy being in Clark's shoes! There are a lot of sacrifices and hardships for him. He gives up a lot of personal gain for humanity's sake."
He also reveals what other character he would like to play.
"Lex Luthor! I wouldn't mind having my head shaved – as an actor, getting to play the complete opposite of your character would always be the most interesting, and I think Lex is very clever, very aware, very strategic in what he does in life and in business with the other characters. Clark will put himself in front of the car for someone else – Lex is a little more 'maybe there's someone else I can throw in front of the car to save you!'"
Also in the first issue, creator Al Gough reveals his thoughts on season two. The team also attempt to orientate you around Smallville with a handy map of who and what is where, and there's an investigation into Cark's growing superpowers.
---
---