Calling Hitchhiker fans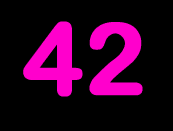 Production team want to speak to die hard fans for BBC Two show.
Do you make sure your towel is always with you? Is "Belgium" a dirty word to you? In short, is your fanatical devotion to The Hitchhiker's Guide to the Galaxy bigger than the erogenous zones of Eccentrica Gallumbits, the triple-breasted whore of Eroticon Six?
If so, At It productions would like to speak to you. They're making a documentary for BBC2 on Hitchhiker's, from the first radio broadcast in 1978 through to the books, the TV series and now the film.
The show will feature interviews with cast and crew past and present and clips of the new movie. But to add the icing, little silver balls and chocolate dusting to the cake, At It productions want to feature Hitchhiker's fans talking about how they've been touched by Douglas Adams' writings.
If you're a huge fan, and fancy appearing on the programme, just email up to fifty words on why you're the biggest Hitchhiker fan ever to hitchhikers@atitproductions.com. Don't forget to leave contact details!
---
---