More Farscape repeats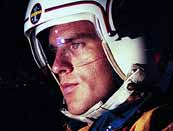 Series one getting a second BBC Three outing already.
Good news for early-retiring Farscape fans! Despite only just finishing their late night run of Farscape's first season, BBC Three will be repeating it again, this time in a more respectable mid-evening weekend slot.
What's more, a certain recently-revived show about a man with a time-travelling box will be aired just beforehand - which may bring a few more fans into the Farscape fold.
Farscape: Premiere will be repeated at 8.15pm on Saturday 26 March, immediately after Doctor Who Confidential. The following week it moves to Sunday, with Throne For A Loss (probably), going out at 7.45pm on Sunday 3 April - immediately after BBC Three's repeat of Doctor Who episode two.
In other Farscape news, we can confirm that tonight's episode will be The Way We Weren't, with Picture If You Will on Wednesday 23 March, despite what some listings magazines might say.
---
---