The Invisible Man DVD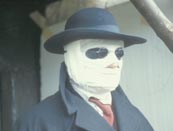 Review: See-through BBC Classic Drama.
Out now is a DVD of the 1984 BBC version of The Invisible Man.
HG Wells was a pioneer, as was Barry Letts. HG Wells created Martians, time travel and the invisible man. Barry Letts championed the use of blue screen on British Television.
While HG invented science fiction in the 1890s, Barry spent the 1970s trying to make Doctor Who look realistic while fighting puppet dinosaurs with fuzzy outlines.
The Invisible Man and Colour Separation Overlay are both sublime ideas that don't quite work. This DVD is the story of what happened when an oddly dull book met the man who made Jon Pertwee's perm extra-fizzy.
The results are quite startling. You cannot fault the special effects in this adaptation. Oddly low-key and pedestrian, they are as good-looking as the rest of this production. It's marred only by being shot on video - it looks uncannily like The League of Gentlemen without the film effect.
The adaptation is faithful to the book, which is its flaw. You realise why every other version has ignored it. HG Wells uses invisibility to tell the story of an unsympathetic maniac, a lonely madman who literally vanishes from society. It would all be quite clever, only the story doesn't quite know how to tell itself, constantly hindered by a central character who is not just evil, but dull.
This is obvious onscreen. We go from classy village mystery, to drawing room drama, to criminal London, and finally to a suspenseful thriller, always undercut by the Invisible Man's rudeness and stupidity. You won't much like anyone in this, and you'll really, really be bored of him.
It's a wonderfully-made folly. Someone had to do a faithful version of the original, and who better than the BBC? It looks great, the cast have an enormous go, and the special effects are stunning. You'll watch it, hooked, despite your better instincts.
There's a lovely extra on the DVD - a discussion about it from Did You See?, with bang-on comments from TV masterwriter Alan Plater. There's also a detailed booklet by Andrew Pixley which explains how every effect was done.
---
---