Complete Bagpuss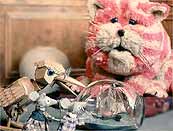 Review: Time to revisit Emily and her old, saggy, cloth cat.
Out from UCA on April 4th, the Complete Bagpuss does what it says on the tin - all thirteen episodes collected together, along with a picture gallery.
So as not to let our own fond memories cloud our journalistic judgement, we decided that the fairest way to review this release was to show it to a small child. Though we did sneak a quick peek at bagpipe-oriented episode The Hamish, which was still as lovely as when we were small.
After procuring three year old Daisy the experiment began. At first, used to the bright colours and hectic pace of Fimbles, Daisy just raced madly around the room.
Once Emily's black and white sequences ended, and Bagpuss awoke though, she was instantly rapt. As the scene shifted into colour, Daisy settled down to watch.
We chose the episode The Mouse Mill - you know, the one where the mice run a chocolate biscuit machine scam, as Daisy loves mice. It paid off - she warbled happily along with the mice's "we will fix it" song.
She also shouted "puss" everytime Bagpuss himself appeared, although her attention did wander a little during Gabriel the Toad's songs. And, like everyone else, she seemed to hate Madeleine the doll.
So, the verdict? Bagpuss still has what it takes to amuse even today's kids, be they ever so corrupted by the likes of Yu-Gi-Oh! and Sunny Delight. And if you're of that certain age that remembers it the first time, you'll still find it charming.
Send us your comment now. We'll publish the best on this page.
There are no comments yet.
Thank you for your comments. The BBC reserves the right to modify any messages before appearing on this web page.
---
---