The Clangers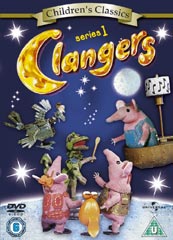 Review: New DVD of those strange whistling creatures.
Reviewing much-loved children's programmes like The Clangers is a funny business. Instead of asking yourself that usual review question - "is it any good?", you actually find yourself asking "is it as good as I remember?"
The Farley's rusk-tinted memories of childhood can be horribly misleading. I was sadly let down by EBC1, for instance. What I recalled as an anarchic, riotous crowd of dozens of baby emus bursting from beneath Rod Hull's desk turned out on adult viewing to be three bedraggled puppets in a cardboard box. The Clangers, I feared, might suffer the same fate.
I needn't have been worried. The whistling pink moonmice were as endearing, and their sandy warren as intriging, as my toddler memories had insisted. The Soup Wells! The Clangers' dinner table! That weird, breezeblocky bit with the sideways pond in it! How wonderful to see them all again. And, as an added bonus, in colour! (We only had a black and white TV until I was ten, you see.)
Watching as a grown-up, what's really great about the Clangers is the sense of continuity. Most kid's TV resets at the end of each episode, everyone returning to their starting positions as if nothing had happened - like Andy Pandy, or even Chigley and Trumpton. In the Clangers, if something happens, it stays happened. Music trees grow in one episode, and are still there three weeks later to hold a telescope for Tiny Clanger.
Of course, a sense of continuity alone isn't enough, but combined with the madcap, fantastical imaginings of Oliver Postgate, a work of outstanding charm emerges. Daft, but somehow logical things happen - a "small hoot" falls from the air, grows into a loud large hoot, and is retrieved by others of its kind in a bizarre brass-section-oriented two-parter. Tiny Clanger catches a metal fish. What fun!
From Oliver Postgate's vaguely admonitory beginning voiceovers, to the final whistle of goodbye, every episode is a joy. It's just a pity there aren't any extras - I'd love to hear Peter Firmin and Oliver Postgate do a commentary one of these days.
The Clangers series one on DVD is out today from UCA.
Send us your comment now. We'll publish the best on this page.
Ssirienna
Absolutely agree. I have not only both Clanger videos, but also Ivor the Engine, Noggin the Nog, and Bagpuss. All of which stand the test of time beautifully - fantastically sensible plots, brilliant drawings, and the gentle humour of Oliver Postgate throughtout. Just wonderful
Thank you for your comments. The BBC reserves the right to modify any messages before appearing on this web page.
---
---