The Nightmare Man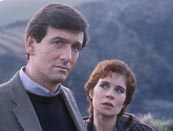 Review: Low-tech horror comes to DVD.
A picture-postcard Scottish isle terrorised by a rampaging beastie with only a shop owner, a dentist and a policeman to save the day - no it's not a Halloween episode of Balamory, but The Nightmare Man.
Originally screened in 1981 The Nightmare Man scared the living daylights out of me, but watching it now is quite a different experience. As an adult you notice that The Nightmare Man registers very high on the cliché counter - remote isle, fog rolling in, phones cut off, sending in the troops etc- but the story is so well-plotted by Doctor Who stalwart Robert Holmes that it doesn't matter that much.
Watching it today, it may not be actually scary, but it's acted with such conviction that you do care who lives, who dies and who's causing all the mayhem - even though it seems to be caused by what sounds like a rampaging pig. Indeed, it's when we see more of the guilty party that The Nightmare Man falls apart. "I think it was laughing," somebody says at one point, pointing out the failings of the sound department.
You also keep watching for signs of Miss Babs - Celia Imrie's Acorn Antiques persona. Unfortunately, she plays it straight, but luckily, two other actors scoop the comedy honours with this delightful exchange.
"Mother asked me to call."
"Mother knows best. How is her chicken?"
"Still free range, I'm afraid."
"Then forget the chicken, I've arranged for the egg collection. Can you close the coup?"
"Yes I can see to that right away."

Fantastic stuff! The Nightmare Man takes us back to a bygone age when British television science fiction wasn't bothered with competing with Hollywood, but quite content to stick with a 'threat from within' achieved with lights, a smoke machine and by strangling a pig. Apt then that it's released in the same week as Quatermass.
p.s. Lots of Scottish people exclaiming, "There's been a murder!" Which is always nice.
Send us your comment now. We'll publish the best on this page.
Paul Johnson
I remember this scaring the life out of me as a nine year old. Particularly after I was told that it was filmed in Cornwall (doubling for the remote Scottish isle) just down the road from my parents house! Great to see it again.
karl cunningham
Well i never...the word 'vodyanoi' has drifted in and out of my memory for years now, remembering a programme i watched as a child that scared the living daylights out of me..(10 at the time). So to 'scratch that itch' per se i decided to do a search on the BBC website and hey presto here it is....itch well and truly scratched..any chance of a re-run?
Thank you for your comments. The BBC reserves the right to modify any messages before appearing on this web page.
---
---