Dominick Hide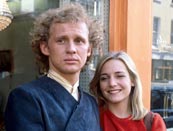 Review: Fun on the Flipside.
With time travel now very much the 'in' thing at the BBC, what better time to revisit two classic dramas that explore the dangers of hopping between centuries?
Originally broadcast in the early 1980s as part of the BBC's acclaimed Play For Today strand, The Flipside of Dominick Hyde proved such a hit with viewers that a sequel was hastily commissioned.
Hyde, played by Spooks' Peter Firth, spends his days as a researcher nipping back to the time of big hair, The Police and leather ties. His mission? To figure out why the buses never ran on time. It's a bold concept yet, surprisingly, one that neither Doctor Who or Star trek has chosen to grapple with.
Tipped off by Great Aunt Mavis (a wonderfully dotty Sylvia Coleridge) about an ancestor living in London, Dominick proceeds to make a series of unscheduled 'flips' in order to find him.
As you'd expect, Dominick suffers the fate of all time travellers - a fish out of water, baffled by the existence of money and all the other mundane stuff replaced with the endless, sterile, boredom of the future.
Although Dominic's quest to trace his roots aseems to reach a dead end, his luck improves when he meets and falls in love with Jane, played by adorable Lovejoy star Caroline Langrishe, and learns what it's like to feel alive again. Just so long as his wife doesn't find out, of courseå
To say more would ruin the many twists and turns of both plays, which I fondly remembered at the time and was still delighted by nearly a quarter of a century on.
Other highlights include a great cameo from Michael Gough as a UFO specialist, a very funny visual gag about holographic musicians, and Hyde's hat – possibly the oddest piece of headgear ever seen on TV.
Witty, romantic, intelligent science fiction from a time better known for the endless lazy space battles and laser guns of US offerings. Flipping marvellous, in fact.
Send us your comment now. We'll publish the best on this page.
Mary
BBC you have made my year! At last the DVD has appeared and it's as good as I remember it when it was first shown. It actually gets better with repeated viewings, so many delights, like Dominick trying to change the past the the grapefruit still hitting the same person! Pure joy!
Turhan
I probably more than anyone have waited eagerly for this DVD release as i e-mailed the Beeb last September asking if a future release was on the horizon. The response i got did not make me think it was going to happen, however i am glad someone at the Beeb has had a change of heart. An absolute classic that was my personal favourite 'Play for Today' which received cult status at my college when it was first broadcast and will bring back fond memories when i watch it again.
vonne
bbc take note we need play for today back on our screens if we have to endure repeats then give us this quality i loved this drama
Charlie I'Anson
I particularily like the film as I was in it. I played dominics kid in the past, janes son in 'another flip for dominic'. I had real problems peeling a banana!
Nick
Like Darren I remember chancing upon this programme on the small black and white set in my bedroom. I loved the way it made the normal seem odd and the odd seem normal. Also remembered for early critic of CFC propellants. Bring it on!
Julie Towers
I've still got a recording of Flipside from when it was first broadcast. It's probably unwatchable by now so I'm really chuffed that it's out on DVD. Flipside was repeated the week before Another Flip was broadcast but we didn't have a video then! They were both terrific - I was 16 when Flipside was first shown and it was probably the first "grown up" sci-fi I'd seen. I realised that sci-fi didn't entirely consist of monster of the week and corridors!
Paul Mount
Marvellously inventive and enjoyable slice of 'adult' science-fiction, shot through with wit and emotion. Hard to believe these plays are 25 years old...and hard to believe British TV is incapable of making anything this challenging these days. Already a DVD to treasure!
Typhoon Tommy
I loved "Flipside" and "Another Flip" when I was at school. I liked the pub scene and the way the saucer was taken by the fun-fair. "Yet Another Flip" is long over-due. At least re-release it on DVD.
Tony
This DVD release is well overdue. At last, (My VHS version got eaten years ago). There is just nothing bad you can say about these two progs, a real BBC Gem.
Darren
I remember watching this as a child on a small black and white TV in my bedroom. It was excellent stuff and as far as I'm aware has never been repeated. I'd forgotten that it starred Peter Firth, though - now famous as 'Harry' in Spooks. I'll have to look out for the DVD so I can relive a little bit of my youth.
Thank you for your comments. The BBC reserves the right to modify any messages before appearing on this web page.
---
---