Grotbags belts 'em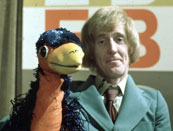 Ever wondered what happened to Emu's arch nemesis?
Do you remember Emu's Pink Windmill Show from the mid-80s? Each week Grotbags, a green witch would try and kidnap Rod Hull's groping bird.
Rod Hull's gone, Emu's making a comeback, but what has happened to Grotbags, we hear you ask? (well, in our heads, maybe).
Well, we can now tell you. The actress, who played her, Carol Lee Scott, was, and still is, a fine singer and she has a new single out.
The platter that matters features "two fantastic femme-funk belters" (whatever that means) from Carol's In Time album. Little Bit Of Love and You Gotta Believe were to be released under the name Cuddles sometime back, but the project was shelved. But now you can listen to 'em on a crackly 45 inch. Hurrah!
So, now you know.
Thanks to DJ Mikey for the tip off.
---
---