Animation Nation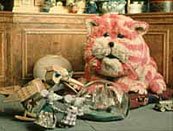 BBC Four's British animation season continues.
Animation Nation, BBC Four's look at delightful cartoons for children, engaging advertising and truly challenging films continues this weekend. Here's what's on offer:
Episode two: Something to Say
Saturday 30 April 10.35pm
The irreverent side of animation came through in the trippy delights of Yellow Submarine, counter-culture classics like Monty Python's Flying Circus and dark modern visions such as Monkey Dust.
Episode three: Visions of Childhood
Monday 2 May 9pm
Magical worlds created by animators have had a huge influence on generations of children. Includes clips from programmes like Noggin the Nog, Bagpuss, The Wombles and Wallace and Gromit.
Other highlights include:
Animation Shorts (Saturday 30 April 7.40pm)
Wallace and Gromit (Saturday 10.10pm, Sunday 10pm, Monday 10.30pm)
On Show: Ivor the Engine and the Story of Small Films (Monday 2 May 11pm)
Time Shift: The Magic Roundabout Story (Tuesday 3 May 2.30am)

---
---