Team America DVD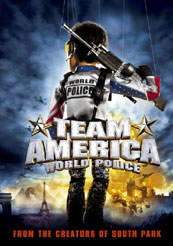 South Park creators marionette movie out on DVD.
Out on 23 May from Paramount Home Entertainment is Matt Stone and Trey Parker's homage to Thunderbirds; Team America.
Created to fight the threat of global terrorism, Team America learn of a power-hungry dictator who is brokering weapons of mass destruction to terrorists. But in order to infiltrate this terrorist network, the team must employ 'special' tactics. They hire the services of Gary Johnston, a rising star on Broadway, to go undercover.
Extras include:
Team America An Introduction
Building The World
Crafting The Puppets / Pulling The Strings
Capturing The Action
Miniature Pyrotechnics
Up Close With King Jong Il
Dressing Room Test
Puppet Tests
Deleted/extended scenes and outtakes
Animated storyboards
Two trailers
---
---