Quatermass star dies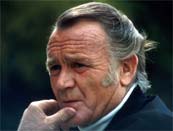 Sir John Mills dies at the age of 97.
Acting legend Sir John Mills passed away at his Buckinghamshire home today.
In a career spanning over 60 years, Sir John starred in over 100 films, including Great Expectations, War and Peace, and Ryan's Daughter - for which he won an Oscar.
He is perhaps best known to cult fans for his portrayal of Professor Bernard Quatermass in the 1978 Euston Films' Quatermass (a.k.a. The Quatermass Conclusion) miniseries.
There will be a funeral service for family and friends at St Mary's Church in his home town of Denham on Wednesday. A memorial service is expected to take place at the end of June.
---
---