Hitchhiker Thursday on 6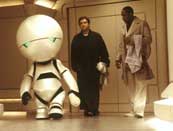 Radio 6 Music spend a day with the stars.
Has the world gone Hitchhiker's mad? Or just most of the BBC? Well, anyway, we've got a lovely press release about Radio 6 Music giving up this Thursday to the new film:
On Thursday there will be a whole day dedicated to the movie starting off with Phill Jupitus and finishing with Steve Lamacq. The day will contain interviews with some of the cast and crew, Sam Rockwell, Bill Nighy, Garth Jennings, Nick Goldsmith and Robbie Stamp you can hear these throughout the morning and afternoon.
You can also take part in our Hitchhiker's Guide to the Galaxy Quiz on our website to win a whole host of movie merchandise.
Plus from Monday listen out for A Guide to the Hitchhiker's Guide to the Galaxy by Andrew Collins.
Send us your comment now. We'll publish the best on this page.
Thank you for your comments. The BBC reserves the right to modify any messages before appearing on this web page.
---
---