Oliver Postgate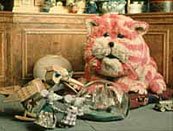 Interview: Clangers, Bagpuss and Ivor creator speaks.
With the Clangers, Bagpuss and Ivor the Engine all recently reissued on DVD, we caught up with the co-creator of these children's classics for a chat.
Here's what Oliver had to say about Moonmice, children's TV and more.
How did you get into Children's TV?
I was a stage manager for ITV, and got attached to the Children's department, which was very much the poor relation. They were doing storyboard stories with a budget of about £100 for ten minute programmes.
I thought I could probably do a bit better than that, so I wrote Alexander the Mouse, which was the first thing I ever did. They'd just adopted a magnetic animation system from a mad Irishmen, and it didn't really work - Alexander the Mouse was moved about by magnets under the table, with a mirror on the top, so you couldn't see what you were actually doing.
It was such a nightmare that I went to them and said "Couldn't we make another one on 16mm film, because at least we'd be able to control what was going on". They said, "There isn't enough money in it", and I said, "How much isn't there enough?" They said £150 per programme, and I said, I'd do it for that.
So I went away and made an animation device in the bedroom, where Pru was about to have the twins, and settled down and made the first Ivor the Engines. And that was how I got into the trade.
Where the Clangers came from.
With The Clangers, the BBC said, "the next lot of films have got to be in colour, and they've got to be absolutely marvellous and they've got to be up to date and wonderful and new." And they hadn't the slightest idea what they were about, so they sent us away to think of something marvellous.
Of course we couldn't, so we raked through our background and found a Noggin First Reader called Noggin and the Moonmouse. All the Moonmouse wanted was fuel for its spacecraft, which was a sort of big ball. It was a mouse-type character, with a duffel coat and a long tail, biggish nose.
That was the only connection we'd had with space up till then, and so we searched the virtual universe to see if they were still in existence, and there they were on this blue planet. They'd evolved in the eight hundred years that had passed since the time of Noggin the Nog - they'd lost their tails because they kept getting in the soup.
They'd taken to wearing armour on their outsides because of all the space debris that was hurtling all about the place, and had put metal covers on their cave tops, which was how they came to be called Clangers. And that's how they came to be up there - and still are, as far as I know.
How long did it take to film an episode of the Clangers?
It didn't work like that, because I had four sets, so I was filming everything on one set then filming everything on the others. It was being made like a proper film. The first lot of thirteen took just over a year, so they overall took about a month each.
I would have a tape recorder with the soundtrack on it, and a script with the frame numbers already marked, so that I knew exactly how many frames it took to move them from point A to point B. It was a marvellous job, because you had to be totally concentrated. The whole day would pass, and you would have done a minute of film, but it didn't matter because it was totally rewarding when you got the rushes back and saw them suddenly come to life.
How were the Clangers animated?
I stuck tintacks through their toes to hold them onto the ground, and they've got skeletons inside them which Peter made to my design. When we went to Aardman on a visit, they showed me the armatures they had inside their models, and they were exactly the same as the ones we made, except that we made ours out of mecchano and shelf brackets, and they had theirs made specially by experts.
I've still got a hole in the ball of my thumb where I stuck the tintacks through their feet to hold them to the ground. Because with a puppet which is moving, especially a fat one like a Clanger, there's a point where he's totally out of balance, so you have to have some way of pegging him to the ground, otherwise he'd just fall over before you got back to the camera to press the button.
How tall was the average Clanger?
Hypothetically, they're about four foot high, because when Tiny Clanger meets an astronaut, she is standing about 4 ft high, but in reality, they're about 10 inches high. Well, Tiny Clanger is about 8 inches high and Major Clanger is about 11 inches high. That's without his nose in the air, which would make him a good 13 inches high.
The Clangers' adventures are quite surreal sometimes, aren't they?
They're surreal but logical. I have a strong prejudice against fantasy for its own sake. Once one gets to a point beyond where cause and effect mean anything at all, then science fiction becomes science nonsense. Everything that happened was strictly logical according to the laws of physics which happened to apply in that part of the world.
With the Clangers, it was a question of what's going to turn up next, what's going to fall out of the sky. It was the same with Bagpuss. There the question was what was going to be brought in by Emily next. This would trigger off a story, if one could think of the object, so Peter and I would think about something that might happen, and we'd put the pieces together.
How did you come up with Bagpuss?
We would go to the BBC once a year, show them the films we'd made, and they would say, "Yes, lovely, now what are you going to do next?" We would tell them, and they would say, "That sounds fine, we'll mark it in for eighteen months from now", and we would be given praise and encouragement and some money in advance.
And we'd just go away and do it. They hadn't any ideas in their heads, and they were happy enough to leave that to us.
Bagpuss came out of Peter's head. It was orginally an Indian Army cat that lived in Poona, in a children's hospital. He would tell the children stories, and he had this magical faculty by which the story he was telling them would come to life above his head.
I said, "That is jolly useful for television, but I'm not having a children's hospital in the barn, thank you very much. I have trouble enough dealing with puppets, I can't deal with live things." So we moved into the shop window.
The other characters we found. Madeline was a rag doll which Joan Firmin, Peter's wife, had made for Katy when she was a baby, and Gabriel [the toad] had been one of the characters which Peter used with Rolf Harris in the very early 60s, when he did a programme called Musical Box. He has the useful faculty that he's got mechanism inside him, so that he can be worked live, as distinct from being worked in single frames. When it came to singing songs, I'd run the camera at full speed, and Peter would pull all the levers to make him play his banjo.
Professor Yaffle was a bit more difficult to come by. We had a character called Professor Bogwood, who was a sort of greyish wood man, and nobody liked him. I remembered a philosopher I used to know when I was young called Bertrand Russell, who had this reedy voice, and my Uncle Douglas as well, who was Professor Emeritus of Political and Economic History at the University of Oxford. He was a dry old stick, and he had a "hmm hmm hmm" voice. And Peter said it sounded like a woodpecker.
Peter put Professor Yaffle together, and the voice fitted him. He was always being sent up rotten by the mice always, which kept him in his place. Which I was never able to do with my Uncle, because he had no sense of humour. Nor, mind you, does Professor Yaffle, when you come to think of it.
Was Emily embarrassed by Bagpuss?
Emily is Peter's daughter. She was ambivalent about it all. She was teased about it at school a bit, because she was only about seven when the films were first being shown.
Of late she's become very happy about it, and she went to Romania when Bagpuss's Children's Hospice was opened there - which Peter bought from merchandising money. The merchandising had taken off rather, and the place is now infested with Bagpusses of all sorts, so he made quite a bit of money.
Was there a philosophy behind the way you made programmes?
None at all! Our reasons for making them was because they were fun.
We didn't sell films to children, we sold them to the heads of department at TV companies. We would tell them an idea we had in mind, and it was their job to say whether they were suitable or not.
The reason why our films are still fit to look at and enjoy is because we were excused the interference of educationalists, sociologists and other pseudo-scientists who get at things nowadays, which produces eventually a confection of formulae which have no integrity. No, the mainspring of what we did was because it was fun.
The themes and language were often quite adult – was that on purpose?
Oh yes.
People who saw them when they were young say that they saw lots and lots of films but ours were the ones they remembered. Children at that age take in everything, and if they understand it or not, they remember it. Later on, they grow up a little bit and they have a little chuckle, because they suddenly see the adult joke.
We made certain that it worked on two levels. The children would enjoy it anyway, but with something like Ivor the Engine's Under Milk Wood Welshness, children didn't particularly know what was funny about that, but the grown-ups who had to watch it as well enjoyed those jokes.
Where did the characters in Ivor the Engine come from?
Oh, they turned up by themselves. It was very strange, I found I'd written that Ivor went down to Grumbly and delivered a new plough to Mr Hannibal, and so on. I looked down on my paper and said, ûWho's Mr Hannibal, for god's sake?ú I'd already written his name, so I had to imagine him.
The thing about writing something like that is you put yourself in the place. The main influence on it was that I was intoxicated when I was a young man by Dylan Thomas' Under Milk Wood.
When the Welsh BBC took over Ivor recently and said they wanted to adopt him as their mascot, I said, ûYou do know he is totally bogus, he has no connection with the real Wales at all?ú They said, ûOh, yes, we know this completely, but in Wales we rather enjoy it.ú
How Barney the elephant keeper got Ivor banned in Hackney.
Ivor the Engine was banned by Hackney Public Libraries, because of the Indian elephant keeper, a lovely man called Barney. They thought ethnic minorities might be offended by him.
The only Indian I've ever met who's seen it enjoyed him very much, but this was the time when political correctness was first in bloom. I never expected any of my stuff to get banned!
When I had to record him talking to Jones the Steam, with Barney talking Bombay Welsh, and Jones talking Valleys Welsh, I couldn't get from one voice to another. After about half an hour of trying, I had to do them separately and join them together with a pair of scissor and quarter-inch tape.
Where did the dragons in Ivor come from?
Oh, dragons are quite ordinary.
You see, with Ivor the Engine, all we did was to change one parameter of ordinary life, which was, you have a railway engine which wants to sing in the choir. And from then on, everything is perfectly logical.
But having admitted the possibility of that, you then find that other unlikely things could happen, and the people of the neighbourhood took them in their stride. Exactly the same thing happened with the Clangers, unlikely things happened all the time, but the Clangers dealt with them in a reasonable way.
When the Clangers got a television set and it made these dreadful noises, they threw it back into space again, which was the best thing for it. And that seemed to me perfectly logical – it's not surreal, it's improbable in origin, but the natural cause and effects still apply.
What's your feeling about the way children's TV is done today?
I think there's an economic side-effect of children becoming a market, which is that originality and fun have to take second place to the investment millions.
Well, the first thing I said was, there's no such thing as today's children, because children come along new every so often, and they don't belong to today until today has got at them.
People have tried to remake Noggin, for instance, for today's children. They put together a presentation, and then they had to go round the world collecting subscriptions to the immense quantity of money they would need to make it, a thousand times as much as I had.
They took it to each television station around the world, and each one wanted the story altered in order to suit their largest audience. By the time it had been round and come back again, it was a completely different story. It had absolutely no connection with what we'd done.
They regarded the Saga of Noggin the Nog as the basis on which they'd impose their own thing. I said, ûLook, if you want to go away and make a film about that, then do so, it's nothing to do with usú.
Our good luck was that we were not hampered by having to serve the purposes of money. Film makers, like publishers, go forward by looking over their shoulder. They do things that have already shown themselves to be successful. They pick up a formula and say, ûThat works, we will do something else on it. We're putting a million pounds into it, we can't afford for it to be original.ú
Do you have a favourite of the programmes you made?
No. There's no way of comparing Nogbad the Bad with a Pingwing, for instance. It's like asking if you prefer ice cream to curry.
I empathise most with Noggin the Nog, who is a Viking king who is rather indecisive. They're our most famous films, and I enjoy those most of all. But there are nice things in all of them.
---
---