Evil poll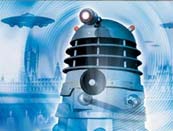 Radio Times asks "Who's your favourite villain?"
To celebrate the return of the Daleks to Doctor Who on Saturday, the Radio Times website is launching a poll asking:
Which of these four cult monsters would you least like to meet in a dark alley?
Shelob (Spidery thing in Lord of the Rings)
The Daleks (Doctor Who)
Darth Vader (Star Wars)
Voldemort (Harry Potter)

The poll will be running from tonight until 9 May, so get voting.
---
---