Bryan Talbot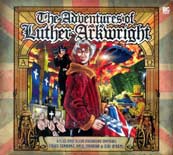 Interview: The creator of Luther Arkwright - now on audio.
Classic British underground comic The Adventures of Luther Arkwright is an intricate tale of parallel worlds, psychic powers, destructive forces, and lots of sex.
To mark the release of Big Finish's three-hour adaptation, starring David Tennant in the title role, we caught up with creator and British comic legend Bryan Talbot.
Read what he had to say about casting, influences and head shops.
How did you get into comics in the first place?
I'd always read comics, and even made them for my own amusement, when I was growing up. I knew I wanted to do something in art, but it never occurred to me that I could make a living writing and drawing comics.
When I left grammar school, I had a strange notion that I was going to be a new Pre-Raphaelite or something, and I went to Wigan School of Art for a one-year Foundation Course. I was taught by three exhibiting abstract artists. This was in the 70s, and they loathed anything figurative. [So] I dropped out and went to London.
There was one place in Preston left to do graphic design, and I went for the interview. They were going through this abstract stuff and ignoring it. I'd put in a few fanzine illustrations I'd done for the Tolkien Society Magazine, and they said, "These are OK, start next week."
After I finished the degree, and was unemployed, I thought I might as well do a comic. Fortunately I'd met a chap in London, Lee Harris, who ran a head shop in the Portobello Road, called Alchemy - it's still there to this day. I'd told him the idea for this comic a couple of years before, and he said, "Well, if you ever do it, I'll publish it". True to his word, he published it. So, I ended up doing comics by accident.
Did you see yourself as part of the underground comic scene?
Yes. It was at the tail end of the underground scene, they were a product of the counterculture of that time. Actually, at the time, to write and draw an underground comic was the next coolest thing to playing bass in a rock band. They really were cool.
By the time I did mine, the psychedelic adventure story was already an established genre within underground comics, and that's what I was basically writing. They were adult comedy adventures.
Working in underground comics for five years was my apprenticeship in the medium. When I was growing up I wrote and drew comics for myself, and when I came to within four pages of the end I wrapped them up. Doing it professionally, I had to be quite strongly plotted, and had to really sit down and think about it for a while before. One thing I'm really keen on is the structure. I have to make sure the structure's really rock solid before I start anything.
Were you very involved in the counterculture personally?
Yes, quite a bit. While I was at college, me and my wife actually did run a head shop. We got married during [my university] course, and we had a kid, so we were absolutely broke. We ran this head shop as a way of supporting ourselves, because I knew enough people on the Portobello Road to get stuff laid on - anything from Moroccan blankets to beads and skins and things like that.
What was the inspiration behind the character of Luther Arkwright?
All through the seventies, I was a very avid reader of science fiction.
[British science-fiction writer] Michael Moorcock actually put up [a character], Jerry Cornelius, as a template for other writers to use as a starting point. I enjoyed the Jerry Cornelius stories, and I had to do a short strip for one of the Brainstorm underground comics, an anthology title.
I was a big fan of Richard Corben's underground comics, where he used a really lovely technique of a little line with a watercolour wash. I just needed an excuse to try this technique out, so I decided to do a Jerry Cornelius strip.
So I created Luther Arkwright. He wasn't exactly Jerry Cornelius, but it was along those lines. It was only afterwards I started to think about that character and the situation in more detail. At that point I took it away from Mike Moorcock's character. I made Luther very much his own character, and told a story that wasn't similar to the Cornelius stories.
They're fragmentary and they're surreal, and the early ones especially are [in a] very trendy 1960s style. In one chapter Jerry Cornelius can be male, in the next chapter female, he can be different characters in different parallels. I think Michael just threw the rulebook out of the window and had fun.
I wanted to tell a straight adventure story - it was just the way I told it that was experimental.
Where did the idea to set the Adventures in a Roundhead parallel universe come from?
That goes back to my childhood. I've always enjoyed history, but I've never been academic at it - I enjoy the stories it conjures up.
When I was at school, we were taught quite a lot about local history. Wigan was a Royalist town during the Civil War, and one of the last battles of the civil war was the Battle of Wigan Lane. It was an ambush, a column of Royalist soldiers, led by Lord Derby, were marching south, and they were caught in a crossfire by Roundheads were waiting in ambush. I was good at drawing at school and I remember the teacher had me do a big drawing of this ambush.
For some reason it stayed with me, this thing about Puritans being b-----ds, although, in the story I try and make it obvious that the Royalists are just as bad. One of the things that's the most fun about doing parallel world stories is being able to turn things on their heads. In the Adventures, the Royalists are terrorists and revolutionaries.
Are the mystical themes in The Adventures a big interest of yours?
Oh yes. I was a devout Methodist until I was sixteen, about which point I lost my faith, and I embarked on a journey across the rest of the world's religions to see if they were all the same. I didn't actually join any churches, but I read a lot on them. Eventually I ended up in the position I'm in now, which is as an atheist.
I've always been interested in the occult, since I was ten or eleven. Not in actually practicing it, you know, not like Alan Moore, just reading about it. Like history, it conjures up ideas for stories.
I remember when I was twelve, my parents asked me what did I want for Christmas, and without stopping twice to think, I asked for the Encyclopaedia of Witchcraft and Demonology, which I'd seen in a bookshop. They bought it for me without a blink. I've still got it, and it's full of wonderful creepy old prints which are really fantastic. And, especially in [The Adventures of Luther Arkwright sequel] Heart of Empire, there is one sequence that's directly inspired by one of the prints.
What did you think when you heard someone wanted to adapt The Adventures for audio?
I was very keen on the idea, because I listen to Radio 4 a lot, and I do enjoy audio dramas and radio plays.
Were you concerned that it might lose something being translated into such a non-visual medium?
Well, no. I always thought it would be a different beast anyway, and it's up to the skill of the adapter. Unfortunately, for some reason we never got put in touch. When Jason [Haigh-Ellery, of Big Finish] bought the rights, the first thing I did was I sent him an email on different ways it could be adapted.
Then I actually met the writer at the Bristol Comic Convention last year, and he'd never received it, which was a shame. But he did it in his own way, and I think he did quite a good job of it.
As far as I'm concerned, the comic book is the artistic statement by me. What anybody else does with it, that's up to them. It doesn't upset me if something drastically different is done with it. But, I was quite pleased with the result.
I think if anything the audio drama is too close to the book. I think he could have adapted it more for pure sound.
What did you think of the casting, and the fact you've got a Doctor Who-to be playing Arkwright?
Oh, I think that's terrific, because I've been a Doctor Who fan from the very first series. I thought [David Tennant] was very good. He had the right degree of sarcasm in his voice, the right non-specific, non-regional accent. I knew he was a good actor, because I'd seen him in Blackpool, and I made a point of watching Casanova, because I knew by then that he was going to be playing Arkwright.
I think he'd make a good Arkwright if they ever made the movie. He'd have to dye his hair though. Maybe I'll suggest him to the Australian company that's taken out an option.
---
---