Serenity website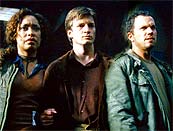 UIP launch a website for the Firefly film.
Joss Whedon's Serenity movie has its own UK webspace at last. There's not a lot on it yet, but it's nice to know it's there - and the film is a reality.
Serenity opens in the UK on 7 October and in the US on 30 September.
---
---