Animated Python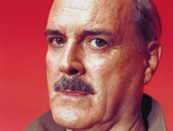 John Cleese teams up with Wallace and Gromit makers.
The Monty Python star is writing the script for Aardman Animations fourth feature, billed as a "pre-historic comedy".
Speaking at the Cannes Film Festival, Aardman co-founder Peter Lord said, "It will be great comedy adventure about a pre-historic culture clash between two tribes."
"Some might consider one tribe might be the English, and some might consider that the other to be the French, the Gauls.
"Let's just say it's the start of the Entente Cordial and it explains why the English Channel is there."
Lord also offered a sneak preview of the Wallace and Gromit full-length feature The Curse Of The Were-Rabbit, which opens in the Autumn.
---
---