Enterprise interview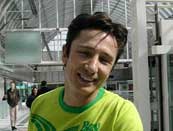 Dominic Keating, aka Lt Malcolm Reed.
With the series coming to a close on Sky soon, BBC Wiltshire caught up with Keating, who is over in the UK on a signing tour.
Dominic talks about the mood on the set after the cancellation, his own ideas for a Star Trek series and, best of all, his exclusive rendition of the series' much-maligned theme tune with some rather rude new lyrics!
---
---