Press Gang four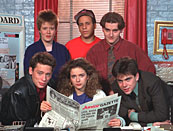 The fourth series of Press Gang is coming out on DVD.
Why do we love Press Gang? Is it because Julia Sawalha is now quite famous, or because writer Steven Moffat's gone on to writer Coupling and Doctor Who In An Exciting Adventure With An Empty Child?
Or is it just because Press Gang's a brilliant show that we all watched long after we should have grown up?
The series four DVD has only six episodes, but it's the year the show got even darker, sparkier and, uh, grown up.
Wince as Lynda Day destroys kids' Saturday-morning TV! Boggle as Fraz becomes trapped in an episode of cult sci fi show Professor X! Swoon as Spike and Lynda almost, almost get it together again! And then gasp as lots of people die!
Series Four is out on 6 June 2005.
---
---