BBC Miss Marple DVDs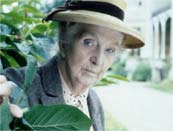 Ooh! Proper Marple released on 20 June.
Fans of a good murder mystery without extra lesbianism will be thrilled to hear that the BBC's own version of Miss Marple is coming to DVD at long, long last.
All 12 ripping yarns will be in a nice red box for just shy of a hundred pounds (although we found a few juicy discounts from some online stores), and you can thrill to 1,360 minutes of solid, glossy crime, with fabulous scripts from playwrights like Alan Plater, a cast of lovely people (Joan Sims! Peter Davison!), and a superb musical score that just can't resist going "ooh! ooh! scary bit!"
Most impressive though is Joan Hickson as Miss Marple, a frail avenger who tackles multiple murderers and stairs with the same grim determination.
Of all the other Marples, well... You'd invite Margaret Rutherford's Marple out for drinks. You'd count the silver if Angela Lansbury popped by. You'd pretend to be out if Geraldine McEwan battered on the door with a gin bottle... but it's Joan Hickson who you'd choose to solve your murder. She's magnificent, even if slightly less mobile than the Daleks used to be.
She solves crimes! She drinks tea! She knits! What more could you want for a Sunday afternoon?
Send us your comment now. We'll publish the best on this page.
Dylan Jones
Old age will not seem so bad now, it is nice to see someone on TV who is as divvery as me. great news.
ian carson
The perfect Miss Marple, the perfect Inspector Flack, any chance of the BBC arranging a mortgage for potential buyers?
Alf Button
Great news...But, anyone any idea if these 12 films have been digitally restored cos the versions that BBC have trotted out on UK Gold/BBC2 over the last few years looked woeful - grainy, dull, poor contrast. Night scenes a joke. Surely in need of a digital sprucing up. Any news ?
Kent Cline
Being from the other side of the pond so to speak, and since the US can't seem to produce a respectable mystery, I await the mystery productions from the BBC with great anticipation. My Public Television Station just started showing the Miss Marple series of mysteries with the your perectly cast Joan Hickson. Fabulous. Just fabulous. Keep showing us over here how to make quality television, even if we don't follow your lead. Thanks again, Kent Portland, Oregon. USA
Chris the Marple Fan
Joan hickson just IS Miss Marple. These BBC classics are Heaven in a box. Couldn't be happier to know I'll be able to have them on disc, and can do away with my ad-break filled TV recordings. Modernising Miss M, on ITV recently, was a crime in itself! Filling it with random rude bits and changing the murderer was such a shock that I swear I could hear Dame Agatha herself spinning in her grave throughout. Give me Joan H any day of the week.
Sarah Hart
I used to love watching Miss Marple as kid , only trouble was I always seemed to have a bad cold when it was on, was this because it was shown in winter time?
David Dawson
Joan Hickson IS Miss Marple. I prefer to forget the recent ITV version never existed.
Andrew
Good news, but not everyone can afford to buy a full boxset. Come on BBC! Release some stories on an individual basis. (PS You forgot about Helen Hayes playing Miss Marple)
Phil Allely
Joan Hickson was the ultimate Mis Marple. A slightly dotty old woman who just happened to be in the right place at the right time, she effortlessly drifted through each tale in a wonderful manner that made her all the more watchable. A boxset of her stories is just what we need.
Thank you for your comments. The BBC reserves the right to modify any messages before appearing on this web page.
---
---