Blott on DVD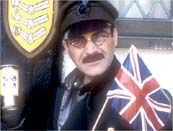 Blott on the Landscape comes out 6 June.
You wouldn't think that a vaguely mucky book about a sinister Nazi chauffeur would turn into one of the best BBC things ever, but, well, it did, and you really shouldn't miss it on DVD.
Thrill to see David Suchet as Blott, the chauffeur with a mysterious past and untamed lusts!
Boggle at the sight of George Cole being spanked by Julia Mackenzie, his absent-minded dominatrix!
Worry as that nice Simon Cadell from Hi-De-Hi gets up to all forms of naughtiness with Geraldine James!
Laugh again at the only theme tune ever composed solely of musical farts.
Oh, it's wonderful dark, devious stuff and my mum still watches it every Christmas, crying with laughter.
PS: Well done 2Entertain - since you've taken over releasing the BBC's DVDs there's been a flood of good stuff. I think my mum fancies you.
Send us your comment now. We'll publish the best on this page.
cathy melrose
About time !! I remember sitting with my family on a Sunday evening and watching 'Blott'...it was sooooooo funny !1 THANK YOU.
Thank you for your comments. The BBC reserves the right to modify any messages before appearing on this web page.
---
---